Ch Boldhart Hugo Who x Ourgang Still The Rage
This litter was not actually meant to be mine but was Matthew's, who owned Jessie. He wanted to have a litter from her but did not want to go to the trouble of setting up his own prefix at the time, I could understand that so I offered to let him use my prefix, my only condition being that I approved of the sire. Off to the research books we went and came up with Hugo that we both agreed on. Hugo being able to add the bone that Jessie lacked, bring down the length of leg and tied in very nicely bloodline wise. This litter was named after songs.
The point of this litter was it was to be Matthew's litter. The original agreement changed many times and it was a good lesson to me to always get any agreement for an arrangement like this in writing, no matter how good a friend you think you are. It is better to be clear & precise and for both parties and write it all down.
The puppies grew and it soon became obvious that a few of them were black & brindles (black with brindle markings in a black & tan pattern) – borderline acceptable for the show ring. Their conformation was very good though so I thought I would try and place one of them in a show home. Matthew at this stage was going to keep one. Matt & his mother were to choose between two puppies as I had homes for all bar the one they were to keep. They were to keep the two at home for the weekend while I took the others to show people as usual, they ended up decided to keep them both – fair enough, their choice as it was their litter, disappointing for the chap who missed out however and let me tell you he did not take it well – my first experience of a stroppy abusive puppy person.
The four girls were sold and the one boy placed as we could not find a home for him at the time. Then the problems started emerging – they all had extra eyelashes! I mean not just one or two but one had complete double rows of eyelashes, one bitch started having trouble with her elbows and had to be operated on, admittedly there was a question about if the environment had an impact on this as her owner played ball with her often & she was obsessed about it—the stop start of fetching on concrete may have contributed. I refunded everyone's money on the condition that they were not to be bred from.
This litter had the best conformation of any litter I had bred, but also had the most problems. This litter cost me around $1800 which doesn't sound much these days but was a lot to me then, especially considering it wasn't meant to be my litter!  Anyone who says you can make money out of breeding hasn't told me.
Ourgang Life of Crime "Bronson"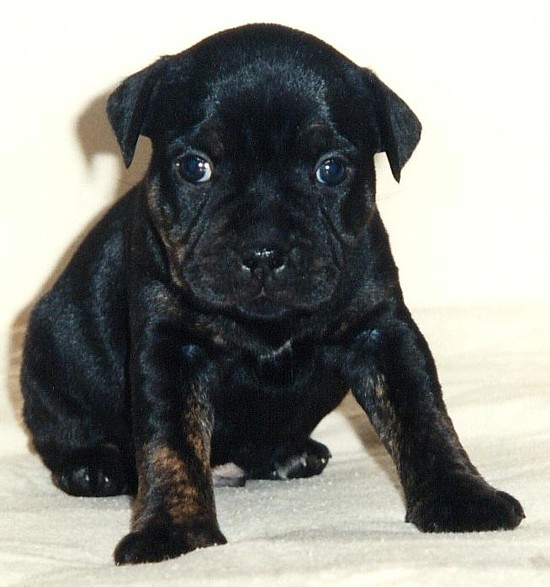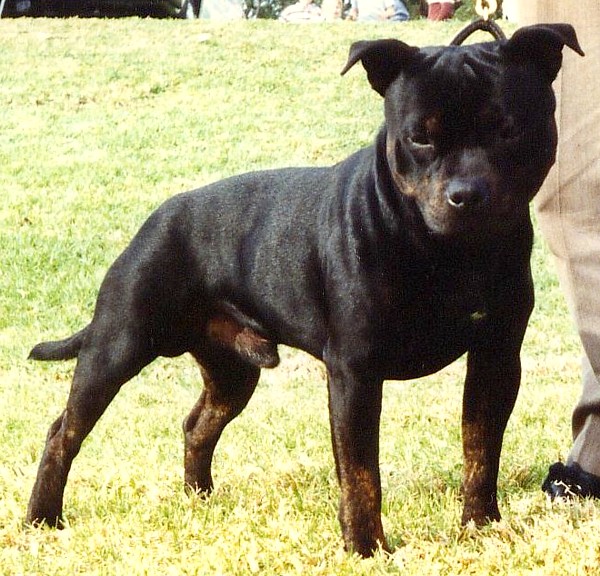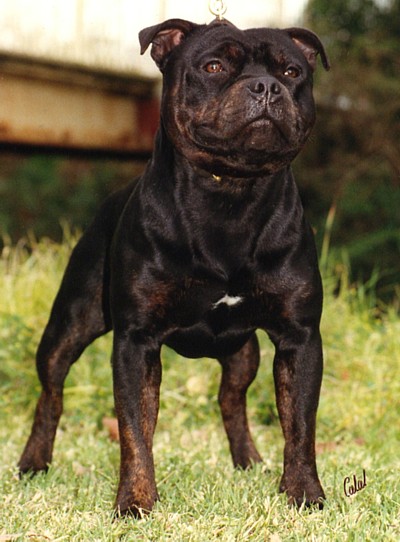 Bronson was called "Life of Crime" due to his colouring, I thought it was a crying shame – criminal in fact, that the only boy in the litter, and a very nice one at that, had the Black and Brindle markings. He was placed at a friend's place for the first two years & I used to pick him up and show him. He did well some weeks and was penalised for his colour on other weeks. He had a terrific head, lovely body, lovely bone, great topline, moved really well but is unfortunately marked – a great waste.
Bronson was returned to me at two years of age as he was an escape artist, spending more time in the pound than he did at home and was re-homed with a guy I work with, with teenage children who could keep him occupied. He has since been moved on again to this person's brother in law in WA where I have lost contact with him.
Ch Ourgang Thatol BlacMagic "Magic"
Wendy Cooper (Cooptroop)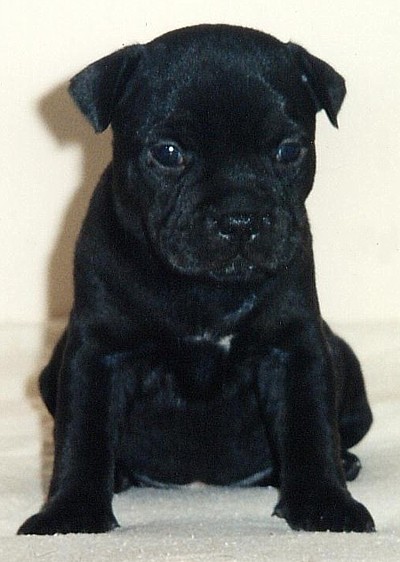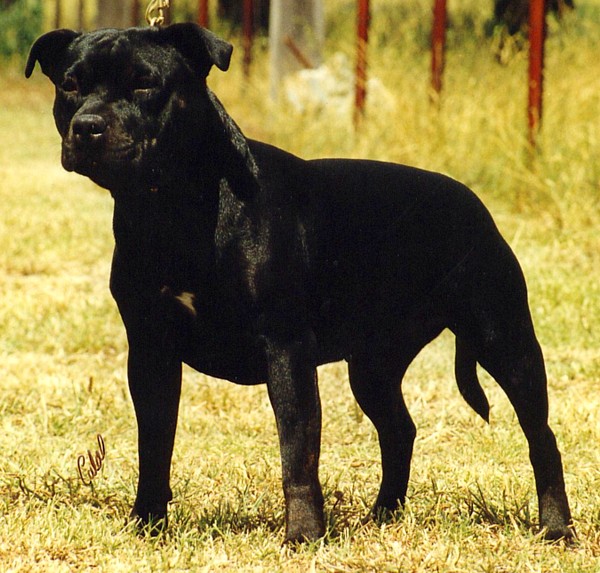 Magic was named after the Ella Fitzgerald song – Thatol BlacMagic as it was one of Mum's favourite songs and seemed to suit the quiet shy puppy that Magic was at that point. Wendy was undecided about two of the pups and decided on Magic as she was the quieter of the two and wanted a quieter puppy as this was her first Stafford.
Well, didn't Magic fool us! She may have been quiet in the litter but as soon as she was home on her own what a devil she became!!! Many a phone call to Narelle and myself  came from Wendy telling the woes of what Magic had destroyed.
Magic was shown consistently and did well, not doing too much as a youngster as she developed the tall legs of her mother but luckily did fill out more than her mother and eventually was rewarded with her championship title. Magic is now the stay at home couch potato of Wendy's household and is a little tubby, always being a girl who loved her food.
Ourgang Heavn Help My Hart "Fudge"
Sue Cross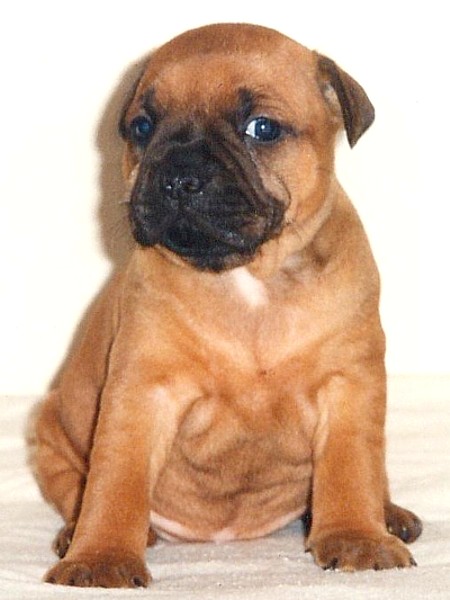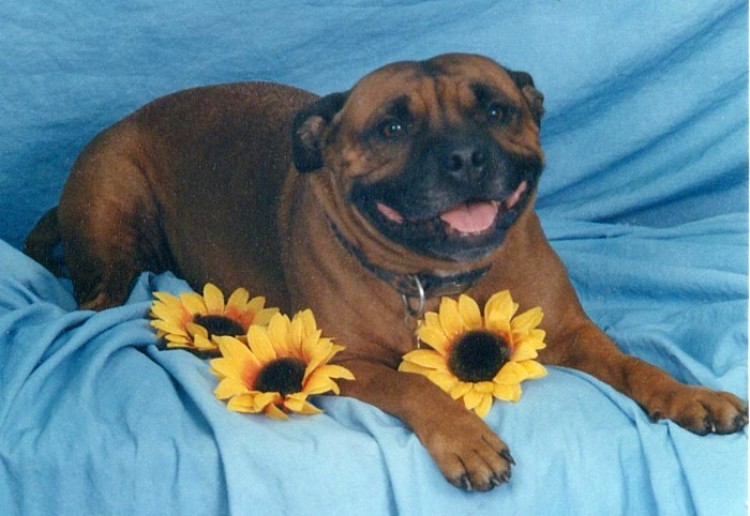 Fudge was the darling of Sue Cross, the only red in the litter, a friend of a friend to start with, and a dear friend today. Sue came and saw me and my other Staffords before Jessie was even pregnant and decided that she desperately wanted a red from me as she loved my dog's temperaments.
Fudge was the last one of eight to be born, the only red in a litter of blacks and a brindle, I was so hoping to have one for Sue as she was such a lovely person, my heart stopped when she was born (I had given up hope when they were all dark before her) and I started breathing again when I turned her over and saw that she was a girl.
Sue was a constant visitor when the puppies were at my place and has loved Fudge totally ever since telling me all the time how much her love for Fudge grew every day and how perfect she was. Sue tried the show scene and decided it wasn't for her, which was fine & was Sue's choice, showing is not for everyone.
Fudge was a terrific dog – great personality and very nice conformation and is totally spoilt and loved by Sue. Fudge lives a life all dogs would love to live now as Sue was a professional Dog Walker (Time To Walk) so Fudge got to go out at least twice a day with other dogs and Mum for great long walks.
Ourgang Rage On "Lil Rage" (1996 – 1998)
Craig McKell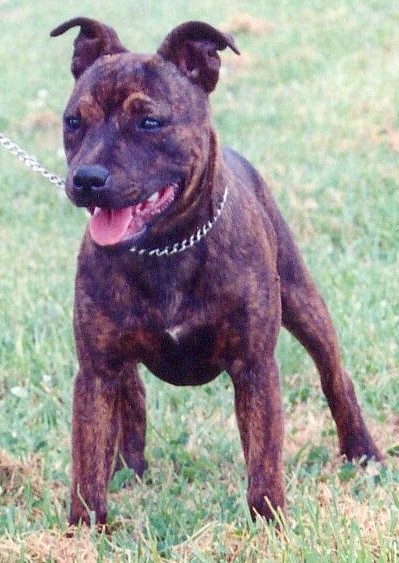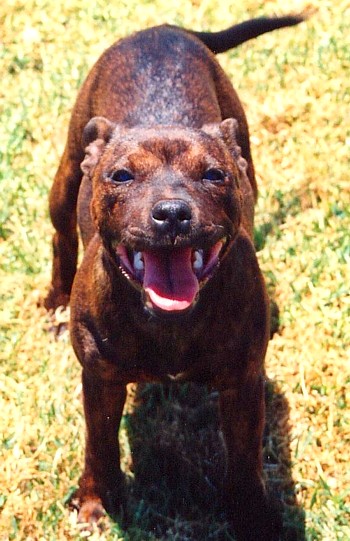 Lil Rage was the only brindle in the litter and turned out to be the beautiful mahogany brindle of her mother. She was a very lovely puppy and grew into a gangly teenager who would have turned out very well had she had the time to mature. She was sent to Craig as a show replacement for Angel (Litter 2) who's mouth had gone flush. She was the only one in the litter who did not have extra eyelashes.
Rage had one bad habit – she was an escapist – go through, under, over, around – however she could do it she would. Craig ended up putting her in a pen with wire buried a foot into the ground, ten foot fences and electrified – she still used to get out.
Ourgang Aint Misbehavin "BeeBee" (1996—2005)
Matthew Delbecque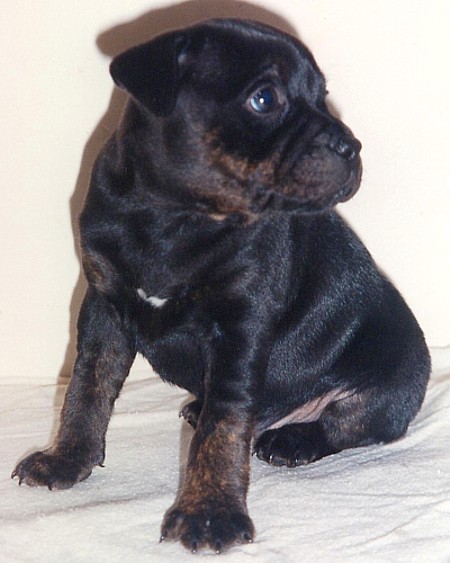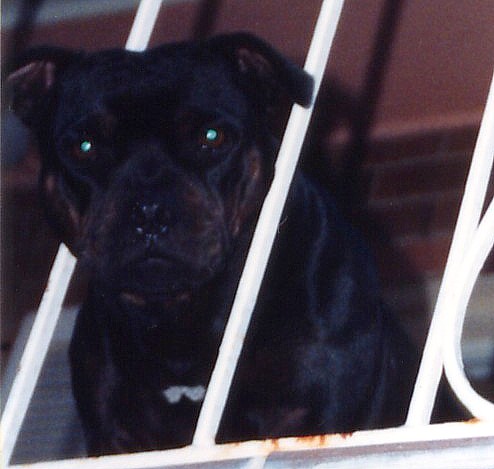 This was one of the two pups that Matthew kept, I did not know how Bee grew up but now I have seen photos & videos even if I didn't get to see her in real life. I did see once at around 18 months of age at a show at Castle Hill – she was absolutely stunning in conformation but the black and brindle was very strong in colouring, still she managed to win her class and get Reserve Challenge, not bad for her first and last show, I did not ever see her again. Now I know she passed away due to what we believe was a closed pyometra.
Ourgang Hold Me Tight "Yang" (1996—2004)
Matthew Delbecque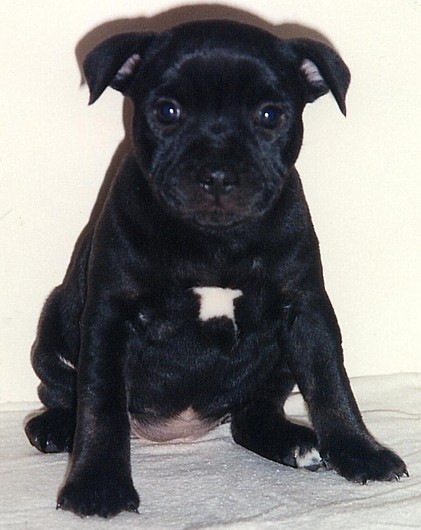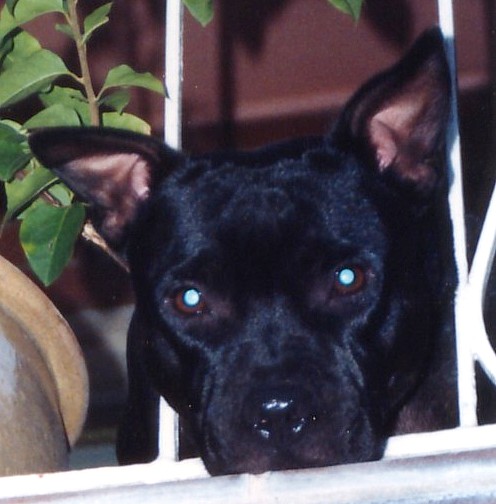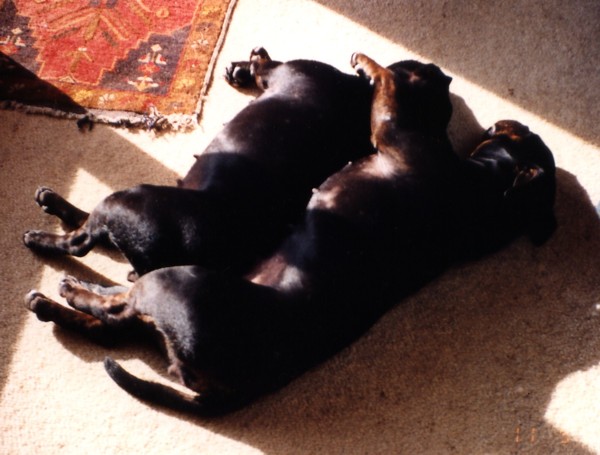 I had never seen Yang, or Arrow as I had known her, grown up but have heard from the Vets they attended that she is a very small bitch (approx 13 inches) with a great personality. I am surprised at this as she was certainly a normal sized puppy with no signs of being small. Her positive outlook on life kept Matthew happy.
I found out that Yang had a happy life with Matthew but was bothered by the issues surrounding the extra eyelashes, unfortunately passed away from heat stress, a tragic day for Matthew, who still misses her madly.
I don't know why but the little ones are always the special ones.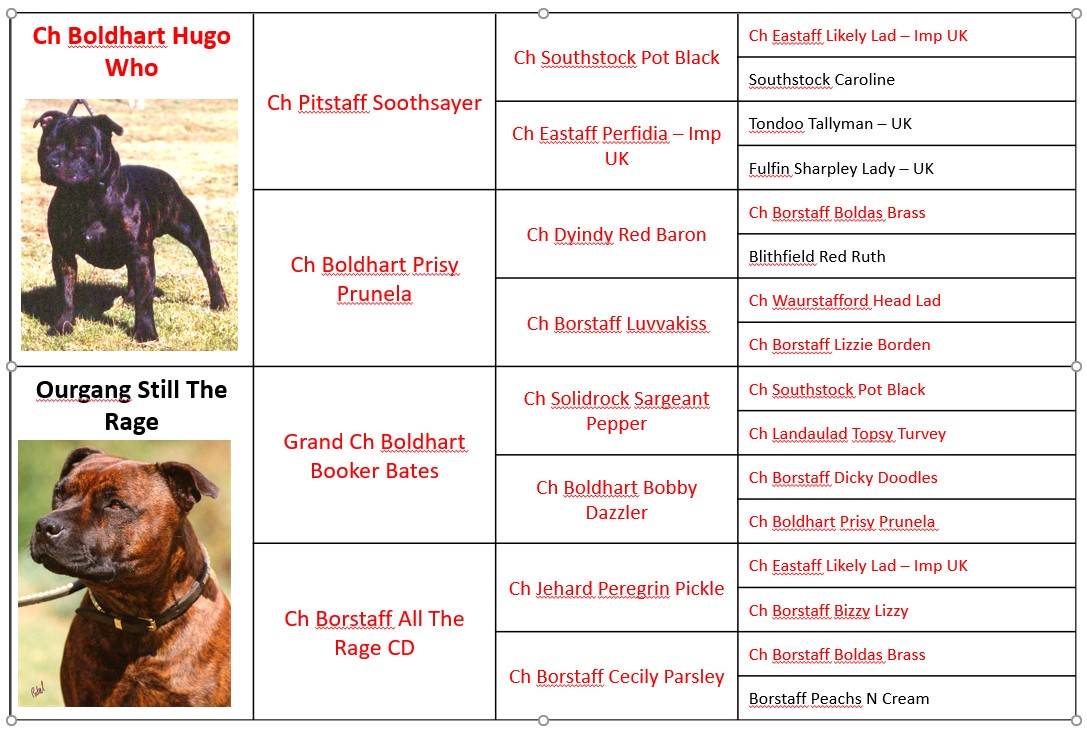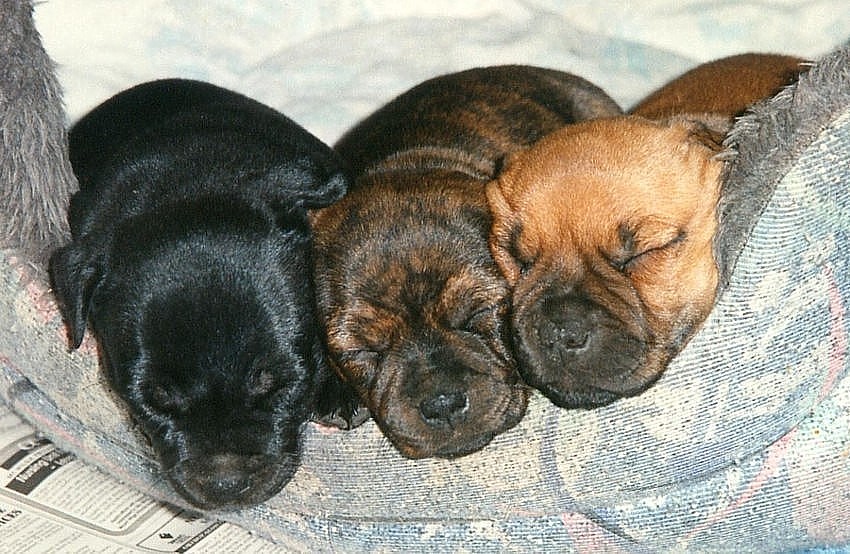 Litter 1 > 2 > 3 > 4 > 5 > 6 > 7 > 8 > 9 > 10 > 11 > 12 > 13 > 14 > 15 > 16 > 17 > 18 > 19 > 20 > 21