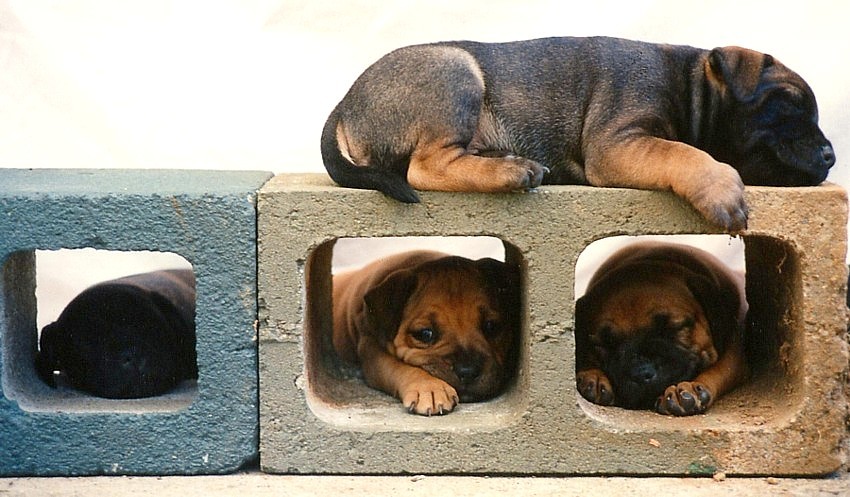 Ch Borstaff Dicky Doodles x Ch Borstaff All the Rage CD
This mating was what I really wanted to do with Rage bloodline wise. I had wanted to concentrate on the Borstaff lines with Ch Borstaff Mad Maude as being my ideal to aim for – as I am not really a big fan of dogs, preferring bitches. Dick had that lovely broad mouth and spring of rib, the lines were made to go with each other and the results were even. There have been problems in the litter but overall it was a fairly even litter, especially as babies. This litter was the first to show the signs of DPN (Degenerative Peripheral Neuropathy), I just didn't know it at the time. This litter was named after movies.
The litter resulted in one Champion – Ch Ourgang Hilander "Lander", the others shown being my own Ourgang Truly Madly Deeply "Mad" who was the Reserve Queen with 38 Reserves & Ourgang Excalibur CDX "Scally" – his owners, David & Vicki Atherfold deciding that showing was not for them, even though he gained 70 points towards his title, and that Obedience was more their forte. Here, Scally gained his CD and CDX, a great joy for David & Vicki with their hard work with him paying off. The other boy Ourgang Dances With Wolves "Wolf" was a much loved pet of my previous neighbours and the other two girls – Ourgang Almost an Angel "Angel" unfortunately went flush ending her show career early in Far North Queensland and Ourgang Stormy Weather "Grace" who was never shown & was a much loved pet.
Ch Ourgang Hilander "Lander" (1994-2006)
Craig Leyden (Hardroad)
Lander started off his life with me. He was meant to go to a lady in Brisbane who had decided from his photos that she didn't want him. It amuses me now that she has since used him at stud so he can't have been that bad! Initially I lived on 3 acres at Cooranbong when I had this litter, my circumstances changed and I had to move back to my mother's with four dogs in a suburban yard – this was a little too much for her. The oldies weren't going anywhere, Mad was my baby so she wasn't going anywhere so that left Lander. Luckily for me the right person approached me for him – that was Craig. He had come down from Gladstone for a Stafford show and enquired about using Lander – I told him he could have him if he wanted instead of using him, after some thought Craig took me up on the offer and my Dad dropped him off on a trip to Sarina. He didn't start off well but soon settled to life in Gladstone with the Leyden family.
Lander was about half way to his title, around 18 mths, when he went up to Gladstone, also being a reserve king like his sister – at one stage winning 24 Reserves straight. Craig persisted with him and he gained his title in style and did very well up there. The biggest plus for Craig came with using him at Stud – producing 3 champions for Craig from his first litter, these being Ch Hardroad Hogan, Ch Hardroad Red Riot & Ch Hardroad Ruckus. He was the "fat boy" of the Hardroad household, still going beserk over the ball and barking his head off non stop while razzing up the neighbourhood dogs into his old age.
Lander was a beautiful red who exceled in topline, movement and structure, his head was not his strongest point but he has certainly thrown some beautifully constructed babies which has been good to see as well as passing on his daggy 'live life to the full' personality.
Ourgang Excalibur CDX "Scally" (1994 – 2002)
David & Vicki Atherfold
Scally was the one David wanted from the start. He said to me before they were born – I don't care what they are like as long as it is a black brindle. I had gotten to know the Atherfold's through their daughter, Joanna, through her purchase of Fels (see Felony) and knew David & Vicki would be a very good home. A striking black brindle pup with a white front was born so he was David's from the start. Scally has a terrific head, beautiful black eyes and the neatest of ears, lovely front and rib, topline could be a bit better as could his rear end, overall though quite a lovely dog though.
Scally proved to be a handful and was very head strong so it was been a battle of wills for the Atherfold's. I suggested they go and see a dog trainer friend of mine, Dianna Cooper, and from there they did not look back. Obedience was their forte, David did not really enjoy the show ring too much, but loved the challenge of Obedience. I can remember every happy phone call from them with every pass and every disappointing trial as he slowly worked his way through both his CD and his CDX – obtaining good scores one week and not so good the next, still he worked with style and passed his trials easily when he did.
It was a very sad day when I heard from the Atherfolds that Scally was sick with suspected Cancer and even sadder when it was confirmed. They did everything possible, just as I had done with Rage, his mother. He is still strongly remembered and deeply missed by David & Vicki.
Ourgang Dances with Wolves "Wolf" (1994 – 2004)
Kevin & Debbie Cross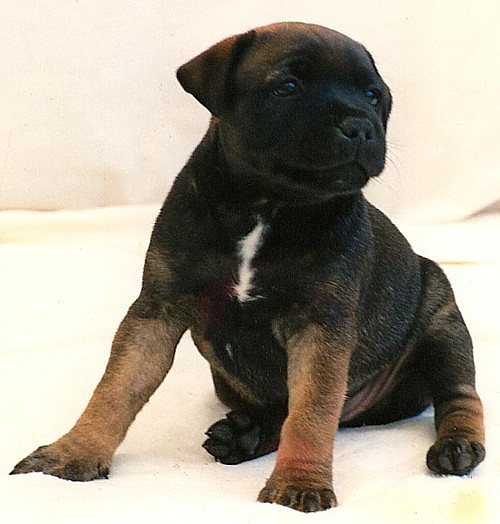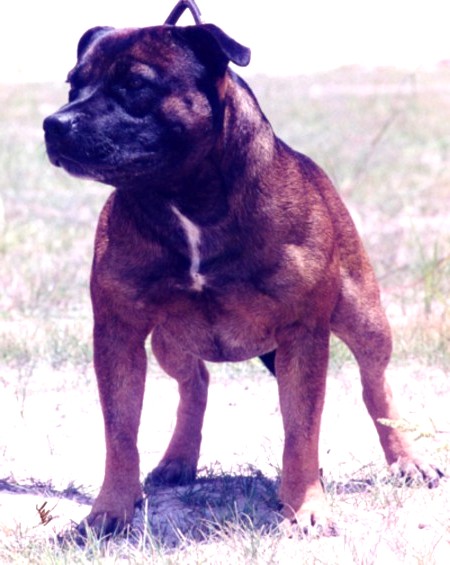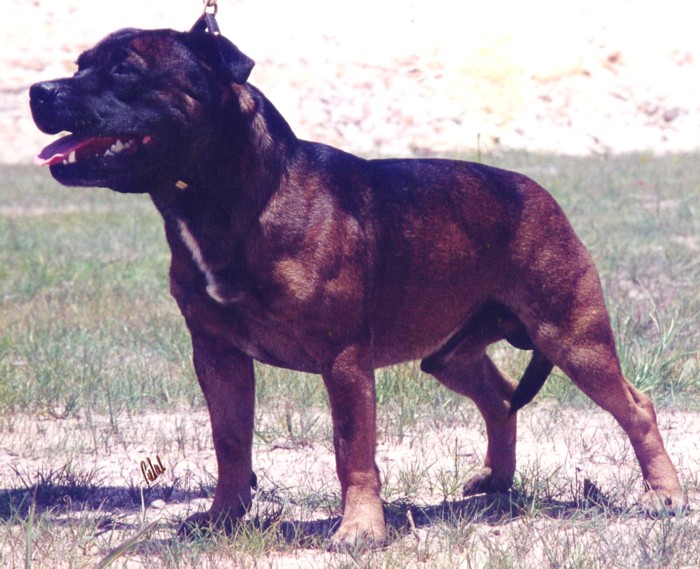 Wolf was an unusual pup, when he was first born I wrote him down as a brindle, by the end of the first week I didn't know if I had a Black and Tan or a very dark smut. As he got older the more red he got but he has still ended up being a very dark red smut dog. This is not a colour I recommend showing as the markings can be very deceiving and off putting. He actually had quite a good head but due the mask followed by the smut his head looked ordinary even though this was not the case.
Wolf was owned by my neighbours in Cooranbong and had a very hard time as a puppy trying to work out which side of the fence he was meant to live on. Lander, Mad and Rage had formed their own little group and used to chase him off all the time, Rage especially giving him a hard time if she caught him over our side of the fence. Needless to say Wolf spent his life dashing back and forth across the dividing paddock trying to play with Maddy & Lander yet trying to avoid his mother's wrath.
As he was very much kowtowed by Rage and Lander it was difficult showing him. I did show him a bit as a youngster when I was still living at Cooranbong but it turned out to be too difficult as he was too subdued to be showy when Lander and Rage were around.
Wolf lived the life of luxury in Cooranbong, being a great cricket dog for the kids, and still ran next door to check out if his 'family' had returned even though it has been quite a few years since I lived there. He had a couple of health scares leading him to be desexed and died of an unknown disease (possibly late onset diabetes) which caused sudden blindness and complete change in temperament.
Ourgang Truly Madly Deeply "Maddy" (1994 – 2005)
See Mad's story elsewhere in the website. All I am going to say here is that I chose her basically because Craig McKell really wanted a brindle and I couldn't decide between her and her sister, Angel. By the time they were six weeks Mad had stolen my heart with her cheekiness so she got to stay.
Ourgang Almost An Angel "Angel" (1994 – 1998)
Craig McKell
Angel was an absolute darling of a baby. Craig had rung me from Atherton (Far Nth Qld) as a referral from Linda Szirer as he really wanted the Borstaff lines and he really wanted a brindle bitch, in fact if he couldn't have a brindle he didn't want any. Craig was already showing his dog – Jehard Paddy Pendlebury, and wanted a bitch to show and breed with. Angel was sent up by plane (very hair raising for me and hard work to send a tiny baby on three planes) but he was stoked with her when he got her so that was good. Craig did extremely well with her as a Baby and in Minor, even gaining a Challenge and a couple of Reserves. Unfortunately her mouth went flush and that was the end of her show career. Craig did try and breed from her once but unfortunately she missed.
Ourgang Stormy Weather "Grace"
Garion & Marian McKella
Garion & Marian came to see the litter when they were about seven weeks old and decided that Grace was to be the one for them. She was the only girl left but Garion thought her good enough to take home, an old time Stafford man from way back, having had previously a Westriding Dog and had a Westriding bred dog in his yard at the time.
Stormy was never shown but did turn out to be a lovely bitch with her only misfortune was to have ears with different sets. She had one ear with Dick's earset – the lowset ones like Maddy and one ear that was Rage's earset which was a bit higher. This gave her the look as though she was tilting her head all the time. Still they loved her for what she was and she is a much spoilt house dog.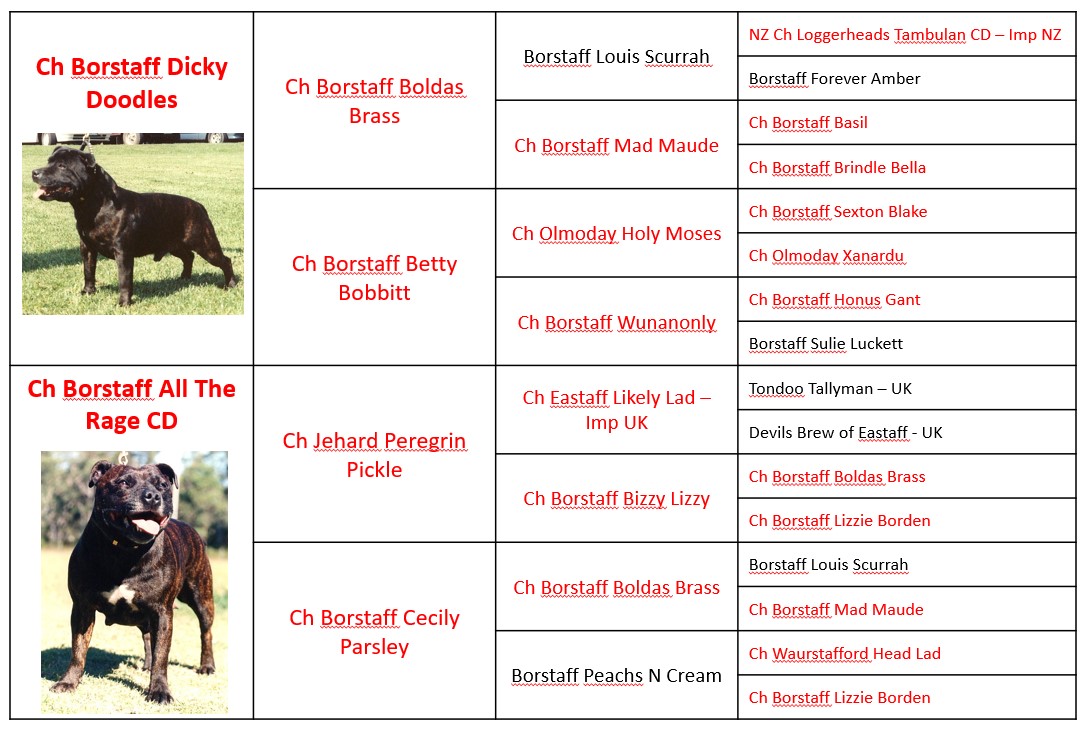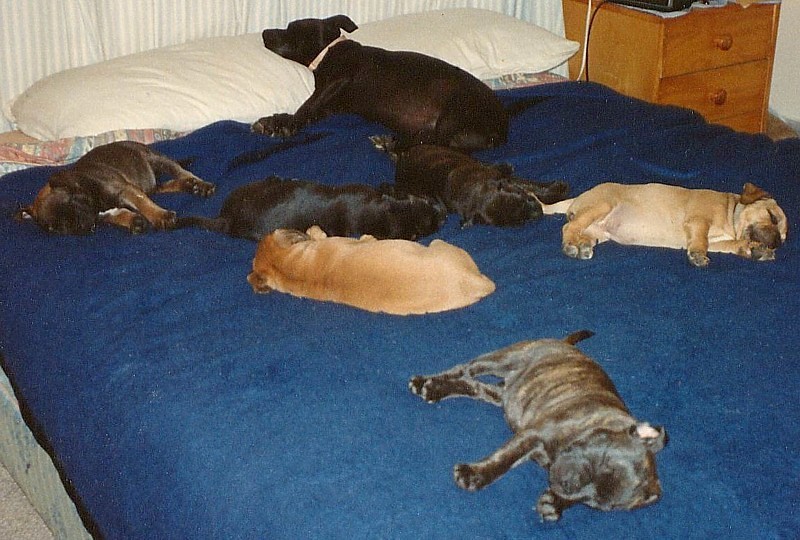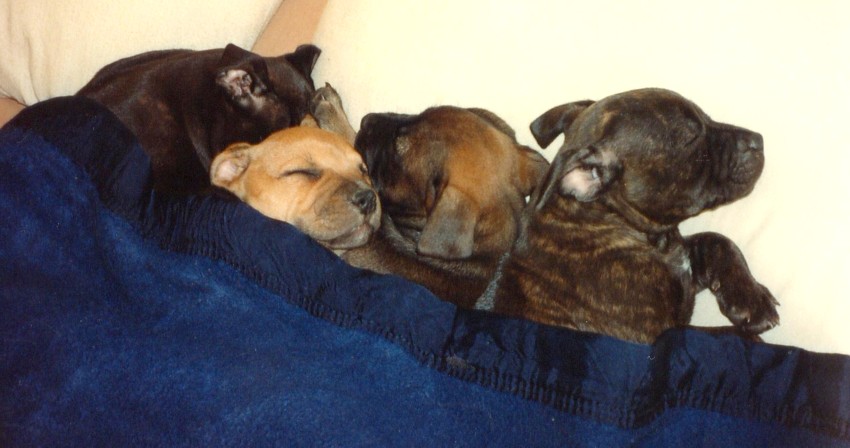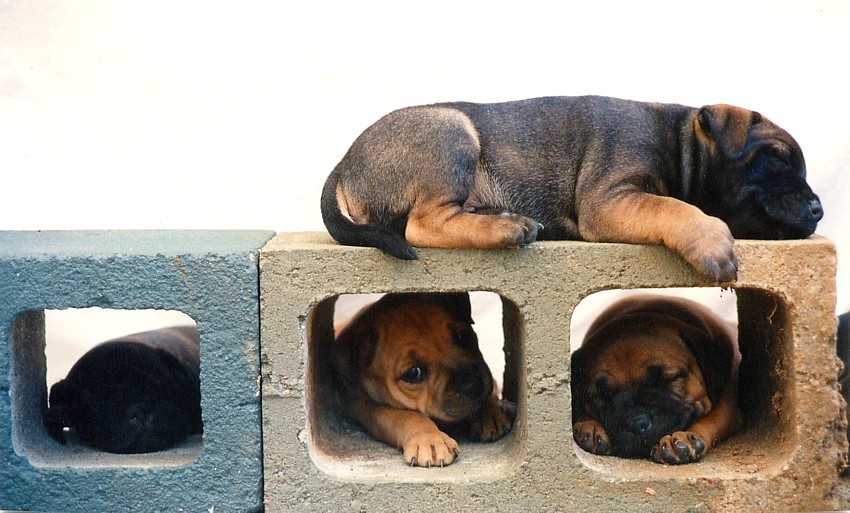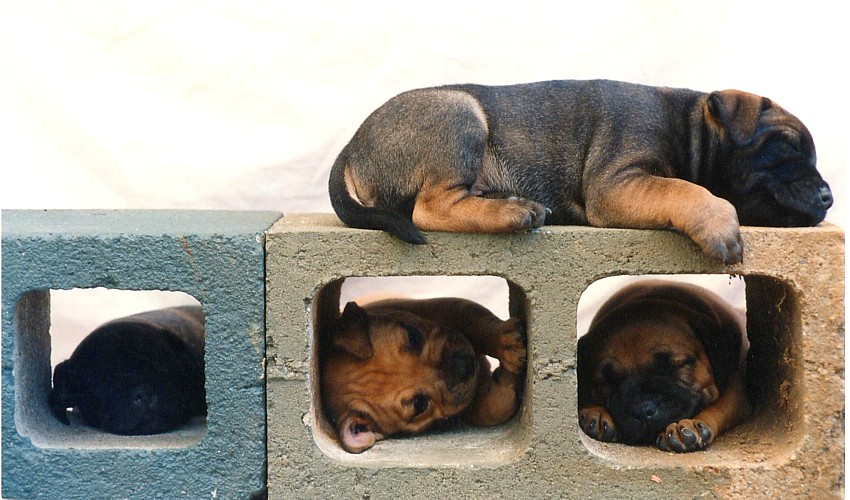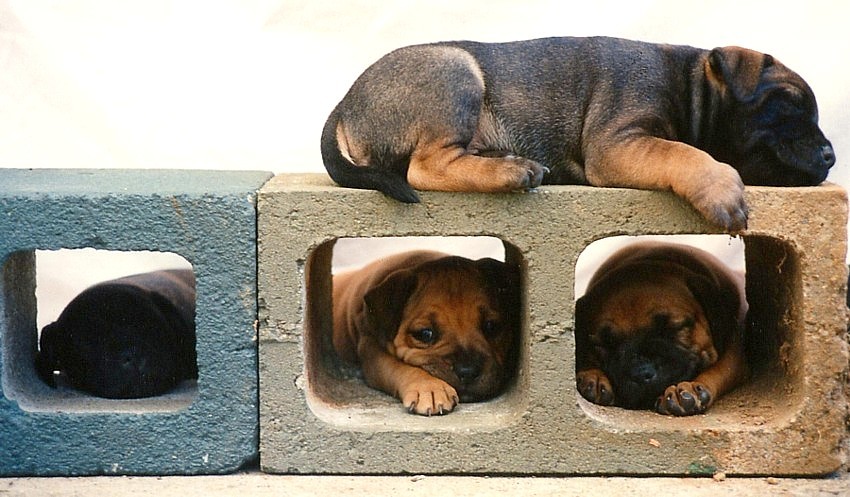 Litter 1 > 2 > 3 > 4 > 5 > 6 > 7 > 8 > 9 > 10 > 11 > 12 > 13 > 14 > 15 > 16 > 17 > 18 > 19 > 20 > 21