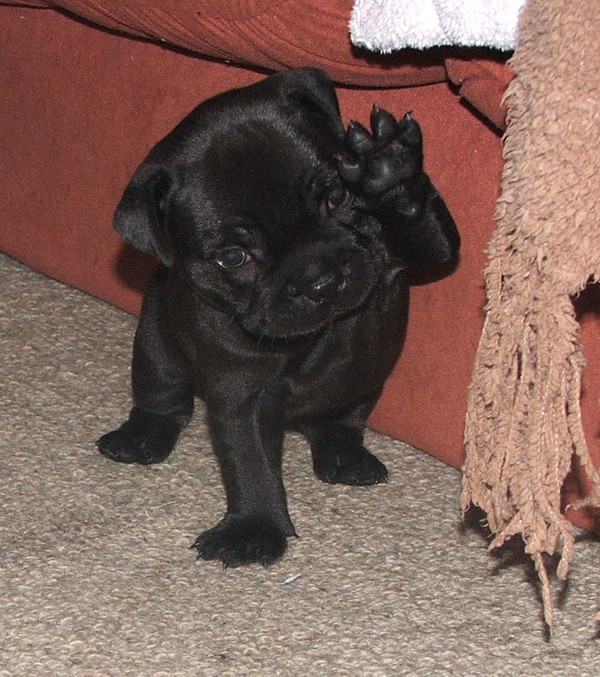 Grand Ch Ourgang Hell For Leather x Ch Ourgang I Want It All
Ourgang Legacy of Leather "Nougat"
Sue Cross
Nougat was the one and only in this litter, born on Christmas eve, I had been told multiple times and had multiple ultrasounds to say there was "nothing there". Good thing I didn't listen to them and took Oprah in again to be checked as I knew she was sort of in labour (they dont normally progress if there is only one) so a caesarian and we had a beautiful black boy as a Christmas present.
Nougat was a stunning puppy, just one little handicap, he had a screw tail so was not something I could keep. It is really hard when you have Singleton litters as you get soooo attached so when my good friend Sue piped up saying she wanted him it was a good solution as I would still get to see him.
He was a strange soul and liked to be on his own and have Sue's entire attention which was hard seeing that he was part of a multi dog household and Sue ran a Dog Walking business and often had dogs to stay but he coped in his own way, he enjoyed the later years when it was just him & Sue
He was one of the ones who had the DPN and was a great help when going through all the testing required to come up with a firm diagnosis. Sue went to extraordinary lengths to make his life workable for which I will be forever grateful.
Litter 1 > 2 > 3 > 4 > 5 > 6 > 7 > 8 > 9 > 10 > 11 > 12 > 13 > 14 > 15 > 16 > 17 > 18 > 19 > 20 > 21