Grand Ch Ourgang Hell For Leather x Triple Ch Ourgang Misguided Angel FM
I wanted to do this litter as Basty had what Angel was lacking and vice versa, he had more bone, substance and the head shape I like, she had the better front, topline and agility plus the benefit of line breeding. The second reason was that I had this Grand Champion dog sitting at home that I had never been able to use. He was eight then and if I had waited for another generation he would be eleven before I used him.
These pups were important as they mean many things – the first Stafford I will be exporting, Staffords for old friends who have lost their first Stafford they got from me and one to go on with for a newer friend, all of the homes had special meaning and I found out what a small world it is for the one family I did not know who bought one — workmate's husband's co-worker who coincidently got my name from the Burke's Backyard website.
This litter was not as successful as I had hoped, two were born with Cleft palates, Hair lips & screw tails and were put down at birth. A third pup also had a screw tail but as that does not affect their life as a pet he remained in the litter and "Nero" has turned out to be one of the most character filled male Stafford I have ever known. Two of the remaining five ended up slightly overshot, I had hoped their mouths would come back with some growth spurts and the girl has (much to my surprise considering she was overshot from Day 1) while the boy who didn't go over til 6wks was still slightly overshot at 9 months . This left the two red girls for show homes.
One of those red girls was "CJ" Ourgang Been Round the Block who after a short stay in Australia broke my heart and was sent to New Zealand to a very special home with Lara Francis, co-owned with her friend & mine Kelly Curtis of Bigblock fame. She went on to do some showing over there to her title and had one litter for Kelly's Bigblock prefix. "Rosie" Ourgang Red Terra is the other red girl who has gone to Maria Hayes who owns her uncle "Harry" Ourgang Harry Potter.
Ourgang Guided Missile "Nero"
Kevin & Debbie Cross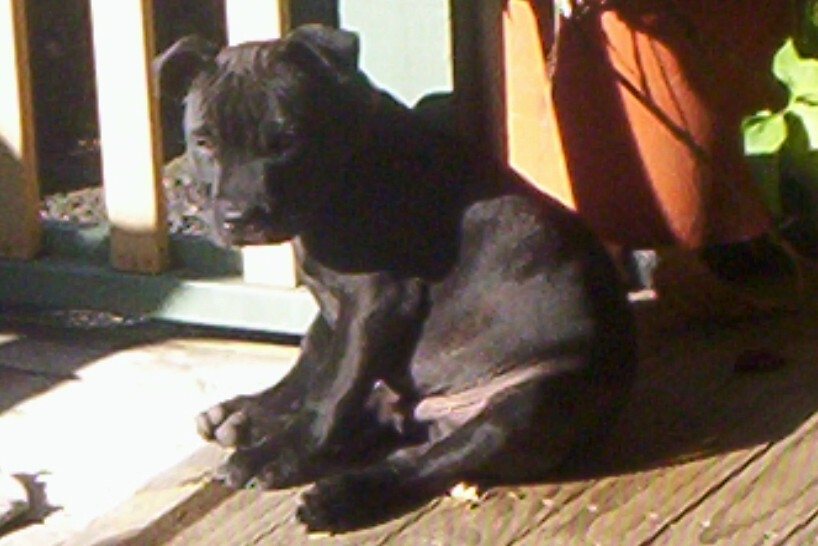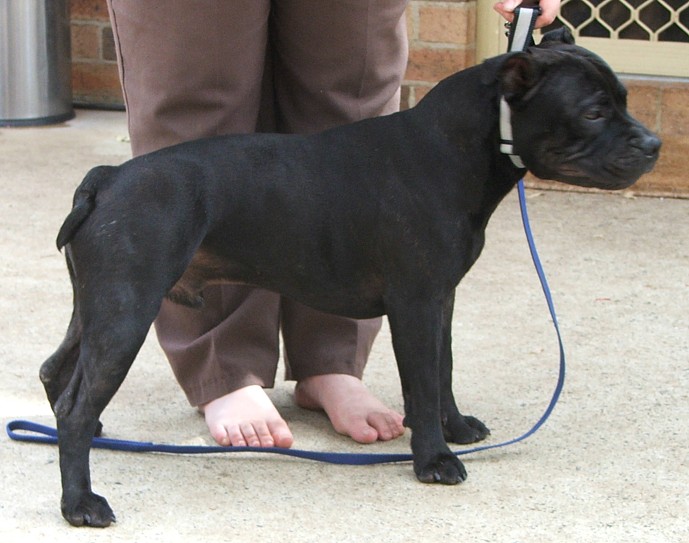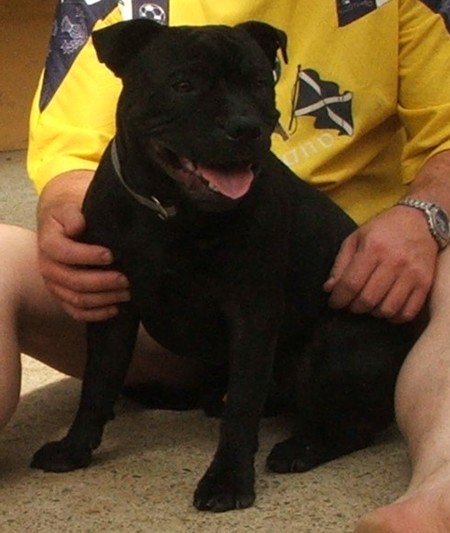 Nero is the cheeky boy of Kevin & Debbie Cross who had owned one from my second litter – 'Wolf'. Wolfie had passed away the year before and they wanted another boy to fill the spot as 'Heady', their older black girl was very lonely. They were very excited when he was born and thought he was very special and that he is—character plus!
When Nero was born I was almost tempted to keep him, he was stunning, it wasn't until the next day that I realised that he only had half a tail so there went his show career. Still you don't need a full tail to be beautiful and he is still a lovely dog regardless and one of the most cheeky intelligent male Staffords I have bred, interestingly enough he did have a litter and none of the offspring had the screw tail. I love hearing the cheeky stories about him though killing snakes at 3 mths of age is a bit much!
Ourgang Hell N High Water "Taz"
Don & Chris Forster (Ourtanelle)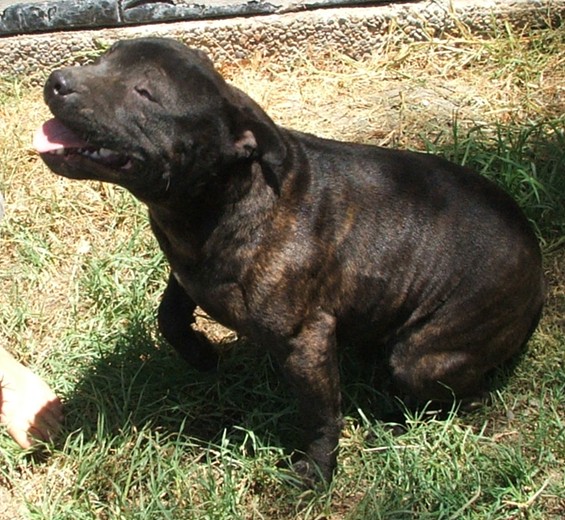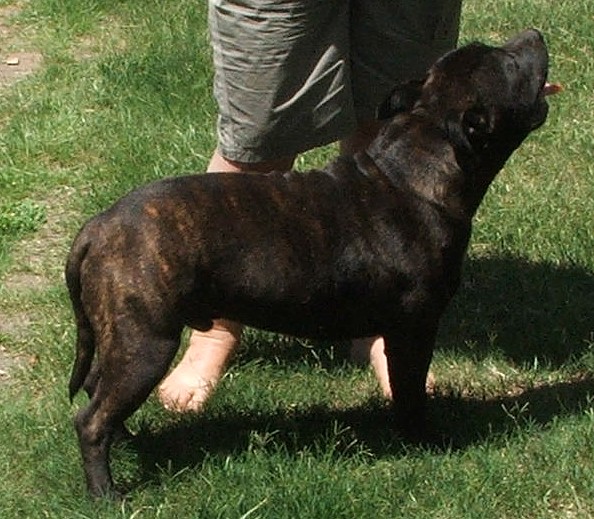 Taz is the Basty of the litter, he is so much like his father it is not funny, not necessarily in looks (though he is similar) but his personality is Basty all over, goes with the flow and is happy just to join in as long as he is getting some of the attention. I thought he would be perfect for Don & Chris as they have a menagerie of animals and I knew they needed the right temperament to get on with them all. They had recently lost Flash and he was just the one to fill the gap.
Unfortunately things do not always turn out as you hope and he was slightly overshot at 9mths when I last saw him. He also only had one ball come down however so he was desexed. This has been disappointing for Don & Chris as they had been hoping to breed from him.
Ourgang Been Round ThBlock "CJ"
Lara Francis & Kelly Curtis (Bigblock)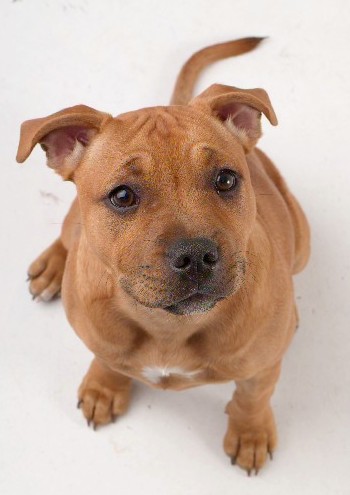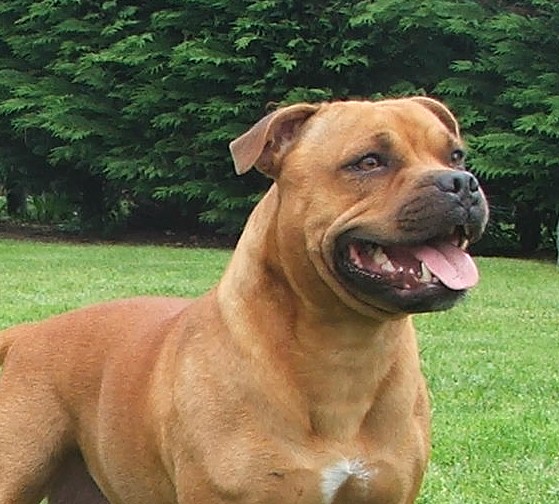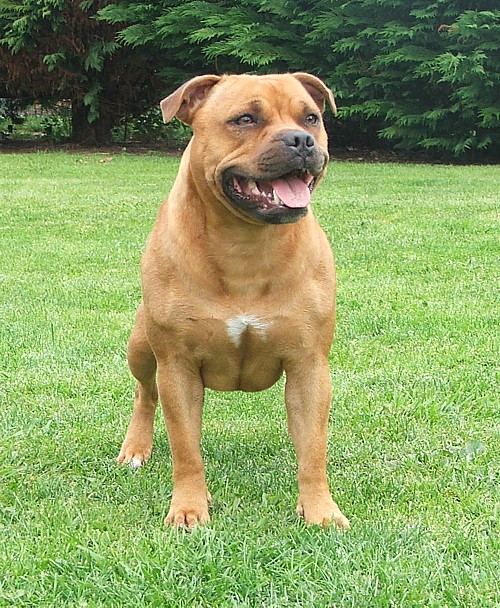 CJ was my first venture on exporting a dog. I will never ever run on a puppy again for so long as it is too heart breaking when they go. Kelly had asked me to run her on until her adult teeth came through but by that stage I was so attached that I cried a bucket load when she went. I nearly called a million times to say they couldn't have her but I had given my word & when I give my word I stick to it.
CJ is a beautiful red fawn like her grandmother Maddy, she did not have the best pigmentation and could have done with a bit more turn of stifle but apart from that there is nothing I would change about her— she is stunning and probably one of the best bitches I have bred, she was a bit of a plain baby but as she has gotten older she has just improved in leaps and bounds and turned into a stunning bitch in my opinion.
One of the reasons she is so special is that she is what I call an 'old soul', one of those ones who has been there before and knows you. For those of you who have had that feeling you will know what I mean. One of those ones who know what you are thinking and you can feel the bond to them tangibly. She is very much like her grandma Mad in that respect and when Mad died when CJ was 10 wks old, CJ kept rushing out and lying on her grave every time she was let out the front. It was heartbreaking for me yet at the same time very special.
She is like her mother, Angel, in the fact that she goes silly in the morning greeting you on the bed & the bouncing, and like her father, Basty, in that the rest of the time she is content to sit back and watch what is going on before joining in. She did her own thing being far more human dependant than other dog dependant. She looks at you as though she is reading your mind as if asking "What do you want next?"
Show wise she has started off well with two Baby in Groups and a Baby in Show which I was very happy about, it was pleasing to send her off to New Zealand which such great achievements. She is now over in New Zealand (and is being thoroughly spoilt and cared for by Lara). Everything is working out well for them and CJ has won her first Challenge & did it in style at the Northern NZ SBTC Specialty show under Rob Du Plooy (Tenacious –RSA) with her second Challenge not long after and eventually gained her NZ Championship title..
She ventured into motherhood, having her litter to the Australasian Specialty CC record holder NZ Ch Bigblock Get in the Ring "Muz" with two boys and four girls to show for it. A girl from this litter was shown in the beautiful mahogany brindle Bigblock Joint Venture – Jindy.
Ourgang Red Terra "Rosie"
Maria Hayes (Roharn)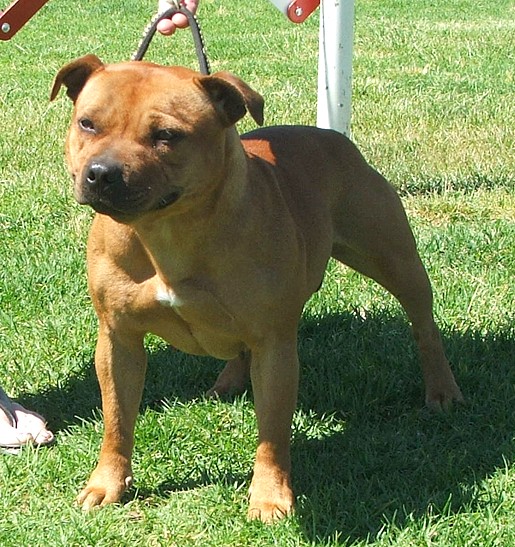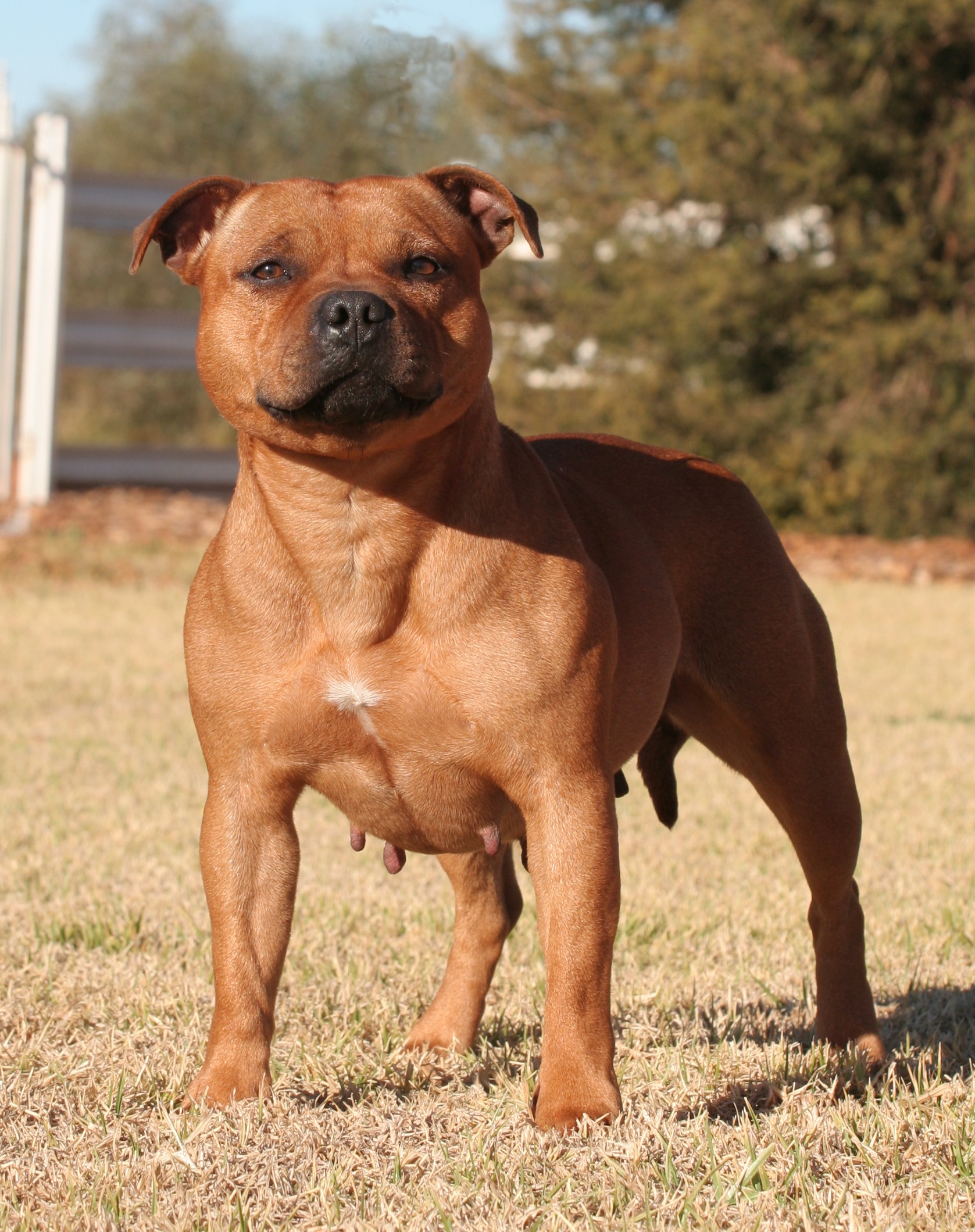 Rosie went to live with her uncle 'Harry' in Canberra with the Hayes family. She is the only other one who will be shown from this litter and she has the body to do well. Her head is not her strongest point but her sound square body, beautiful pigmentation and movement should take her far, gaining her Opp Junior in Show in Canberra! She didn't quite make her title but gave it a good crack with points in mainstream and Neuter.
Maria was just happy to have another Stafford in the household and has vowed that Rosie will not be as noisy or as naughty as her uncle at the shows (just eats shoes). She had one litter to Freddie, which Maria kept the beautiful brindle girl Phoebe.
Ourgang Dark Angel "Daisy"
Joe & Rosie Dahdah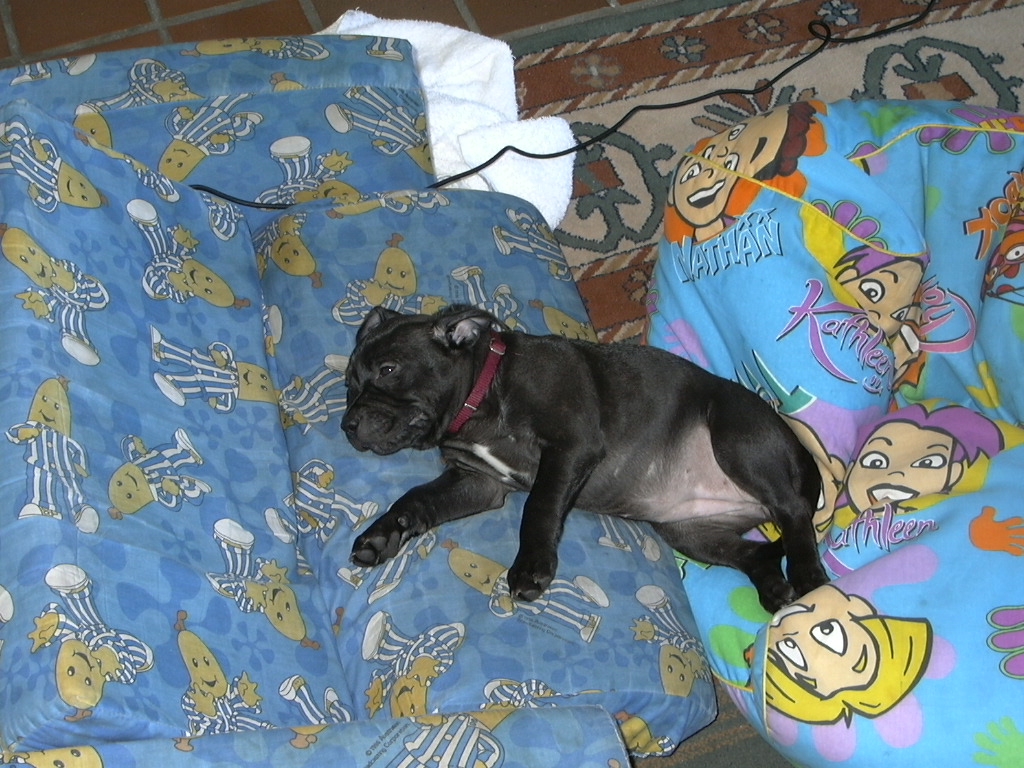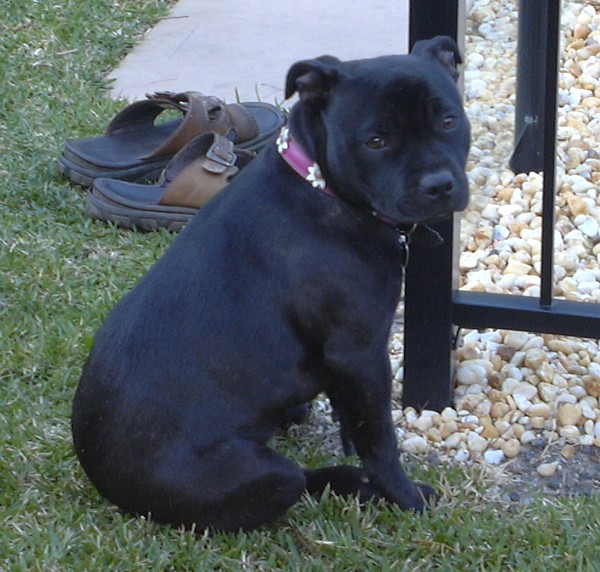 Daisy was originally going to be the one who was going to New Zealand as Kelly kept saying that she really liked the black one. Her only misfortune was that she was overshot right from the start and I just didn't think it would come back enough to be show worthy, it ended up correcting itself by 9 months.
Joe & Rosie were extremely glad that this was the case as they thought she is perfect! It is quite funny, they contacted me through the Burkes Backyard website and later we found out that it IS a small world as Joe works with one of my work colleagues' husbands and we discovered this when he was bragging about getting his new puppy soon from a Stafford breeder at Wilberforce. Kerrie put two and two together and realised it was me! Joe & Rosie are now going to get a second Stafford from me in Rocky.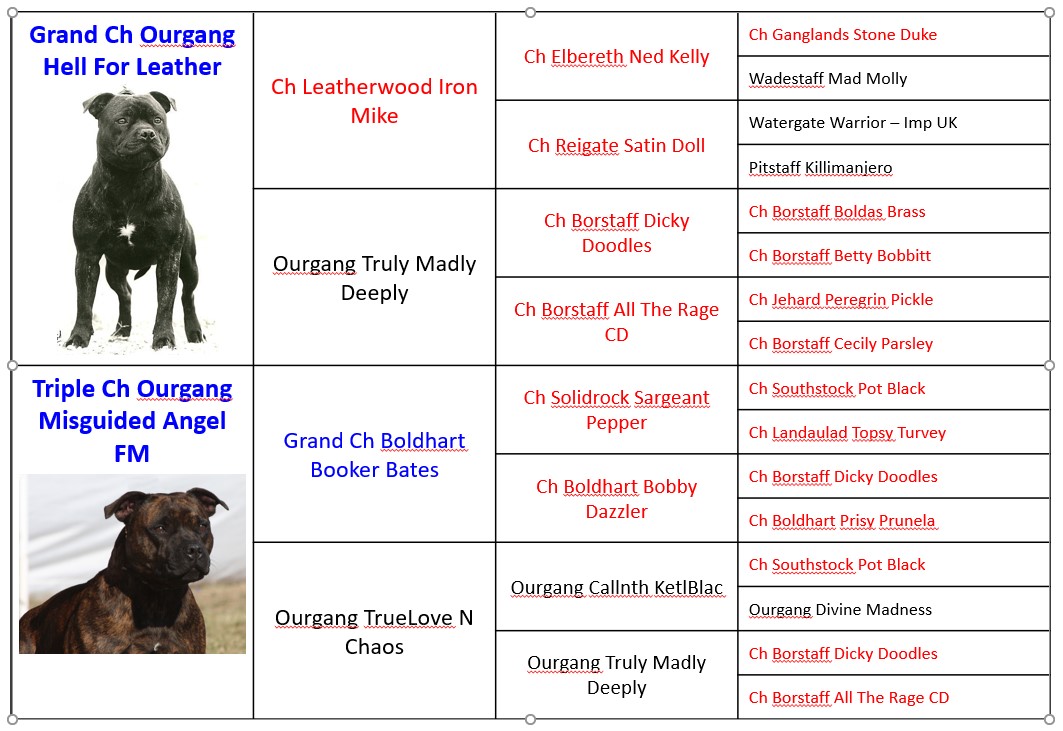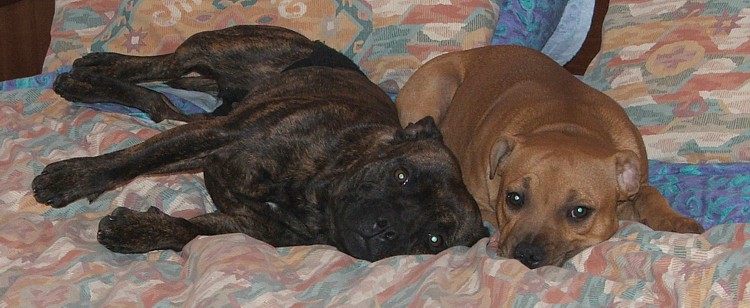 Litter 1 > 2 > 3 > 4 > 5 > 6 > 7 > 8 > 9 > 10 > 11 > 12 > 13 > 14 > 15 > 16 > 17 > 18 > 19 > 20 > 21