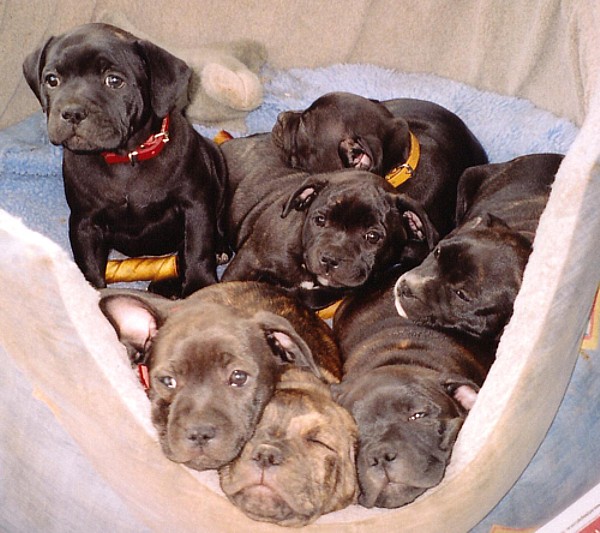 Ch Keltarjess Darcy Blues x Ourgang Put The Ketl On
This mating occurred as I was looking for a dog for Polly and my friend, Stella, pointed out to me that I should look at Darcy again. I had admired him as a Minor Puppy but had not seen him since seeing  that Peter & Kerrie were too busy with children & grandchildren to show him. I went over to see him and was impressed with how he had grown, he still had a lot of filling out to do, being of slow maturing lines, but the basics of what I liked were there. What truly won me over was his fantastic temperament—he is a dag and is very loving—a trait he has definitely passed onto his daughter Queen. My most amusing moment with those two was when I went away to Queensland and they were playing with each other it was like watching mirror images in their antics.
Darcy had the bone and head shape I needed for Polly, her front, rib and pigment were stronger than his so they complimented each other nicely. He has the best rear angulation I have seen on a male Stafford in a very long time which is rare and hard to get. Both the O'Brien's and myself are really pleased with how this litter turned out and they have proved themselves in the ring with two champions from the two shown.
The litter was raised with the Whites, who own Polly as this was my litter back from giving her to them, I had wanted to delay it another season so as to allow more time between my last litter and this one but Tony wanted the litter over and done with which is fair enough. She whelped very easily and there were no issues until the pups were five weeks old. At this late stage Polly developed Eclampsia and severe mastitis to the point where there were chunks of flesh decaying and falling off her from the infectious areas where the mastitis had been. If I had not seen it for myself I would not have believed how quickly this could develop. They had been doing all the right things with Calcium supplementation, feeding schedules, etc and checking on her (I had only been there a couple of hours before this developed with no signs of it at that point) so I am at a loss as to why it occurred. This was truly horrendous and took considerable time for her to get over so she was desexed once all the infections had cleared up. I am hoping it is not a trait that is passed on.
Ch Ourgang Jake Blues "Jake"
Tony & Dierdre White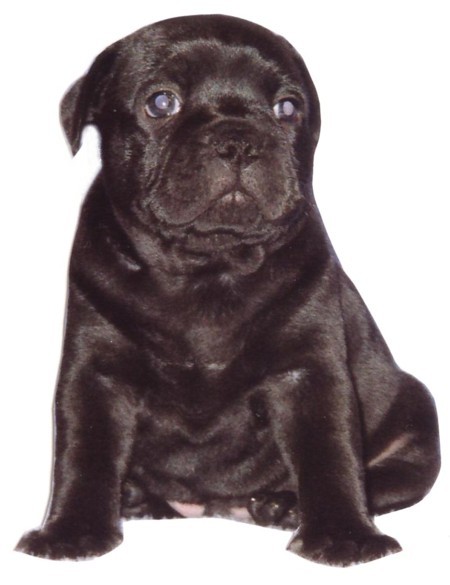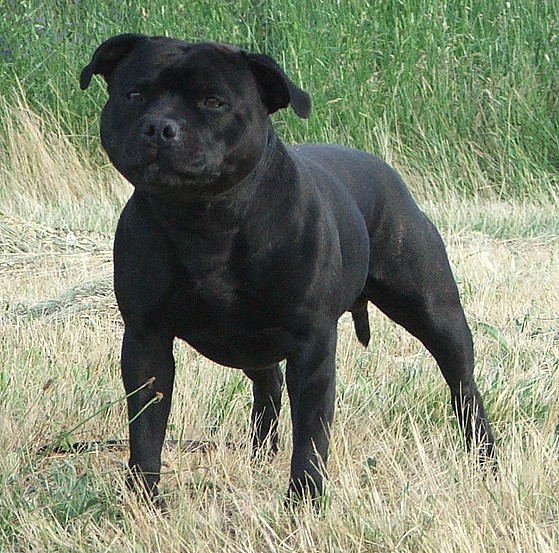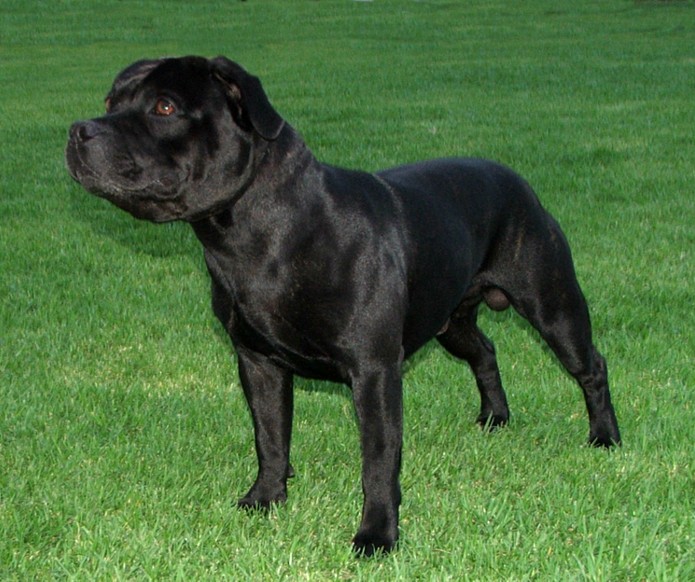 Tony & Dierdre decided to keep him as they couldn't let all of the pups go and just had to keep one, they were having problems with Polly & their other bitch Kim so decided another dog would be better than adding another bitch into the yard. Jake was Deirdre's baby right from the start and still is today.
Jake did well in the showring and gained his title but most of all he has excelled in being the family "talker" and clown, keeping the Whites entertained for years.
Buster was a very cute puppy, his beautiful colouring made him a standout in a litter of dark & black brindles. This whole litter was named after the Blues Brothers movies and he was named after the child in the movie as he was always a kid at heart.
He was returned to me at 16 mths old as his owners had decided to move to a flat and did not want him anymore so I went to  pick him up and was very shocked when they opened the door and this monsterous dog got out. I mean, he is big, very big, He is easily 18 inches tall and built to match, I was very surprised as he had not shown any signs of being that big as a baby. His previous owner had been into body building though so I wonder if this had anything to do with his size…
He now lives down the road from me being a great family dog and truck dog for his owner.
Ourgang Elwood Blues "Noogy"
Liz & Harry Hagen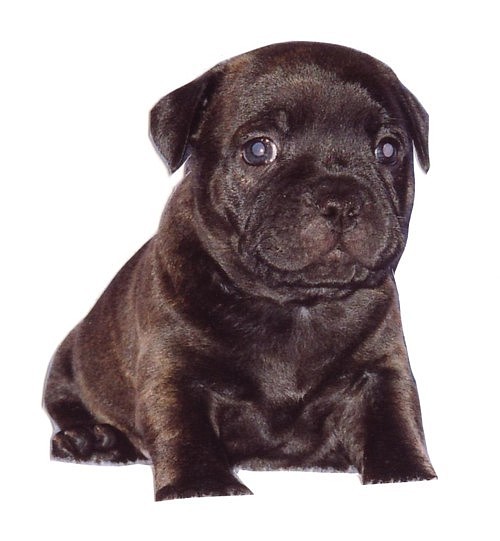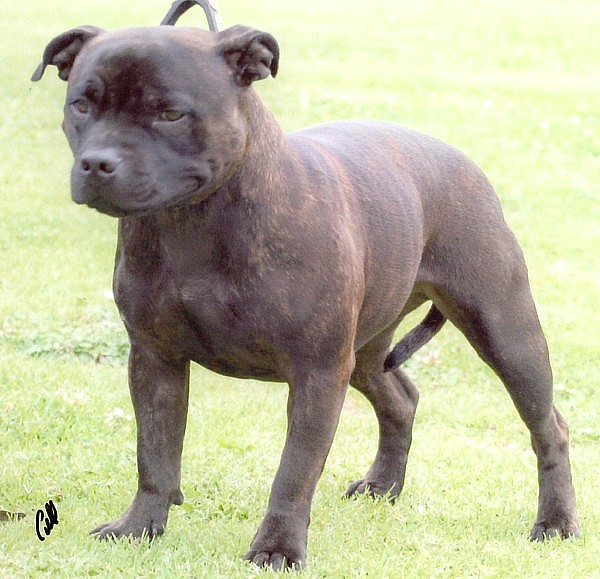 Noogy was the one the White's were tossing up between when they were choosing Jake. I though he would be on the smaller side, which he is, being approx 15 inches but is nicely put together. He was the quiet pup in the litter but soon proved to be a bit rambunctious when he went to his new home.
He came back to me for a couple of months when his owner was going through a difficult time and he was going through the destructive naughties as all Staffords do. We did some training with him and he returned to his original home successfully where they now love him to death. He is the great mate & companion of young Harry who takes him everywhere with him these days.
Ch Ourgang Queen Moussette "Queen"
Matthew Delbecque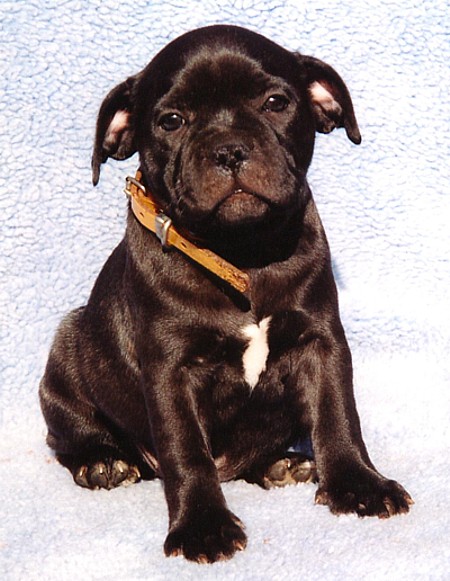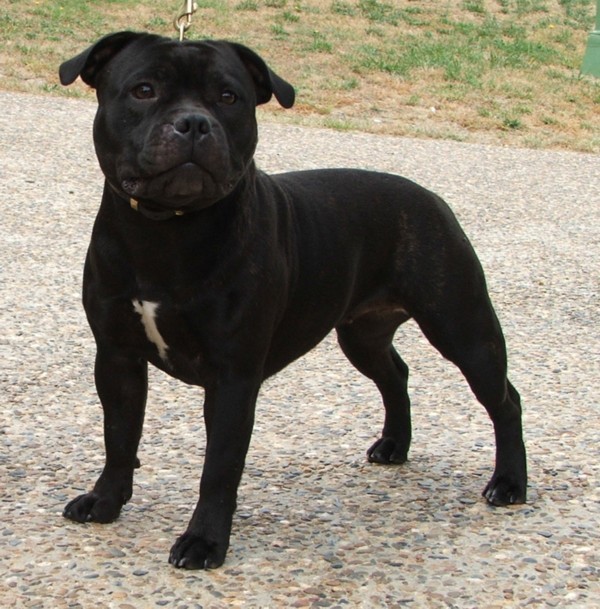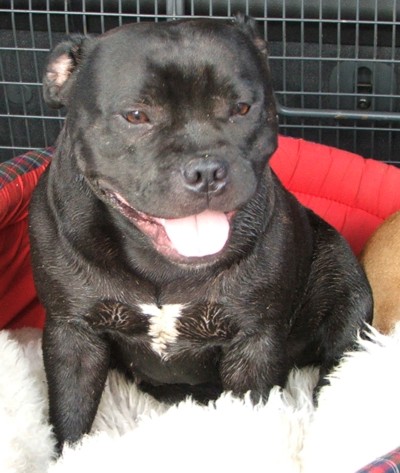 See Queen's page elsewhere in the website. Queen Moussette is the Witch in Blues Brothers 2000 for those of you who are not Blues Brothers fans. It is pronounced –moose-et not mouse-et as some people like to call her.
She was a bit of a problem child in our household due to her challenging the other girls, so she is now living with her son & daughter (Litter 11) and Matt. She is a very cuddly dog and likes to flop herself on you. Everything about her is floppy and she likes to share herself with you all the time.
Ourgang Mystery Woman "Ellie"
Sue & Paul Flentjar (Warbydog)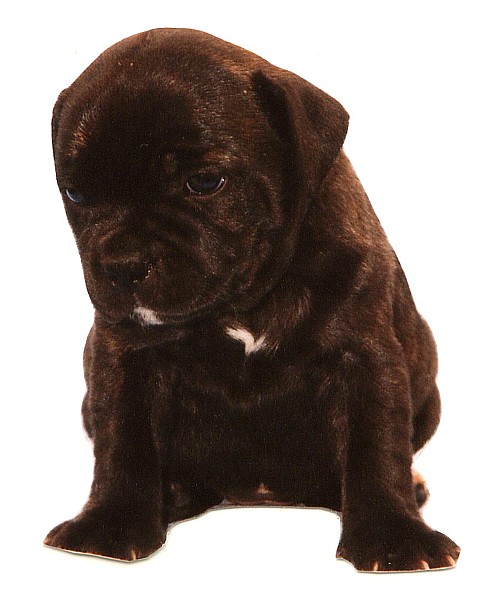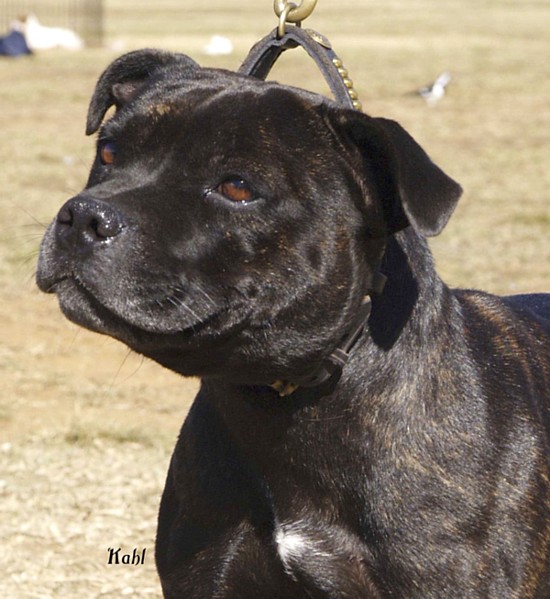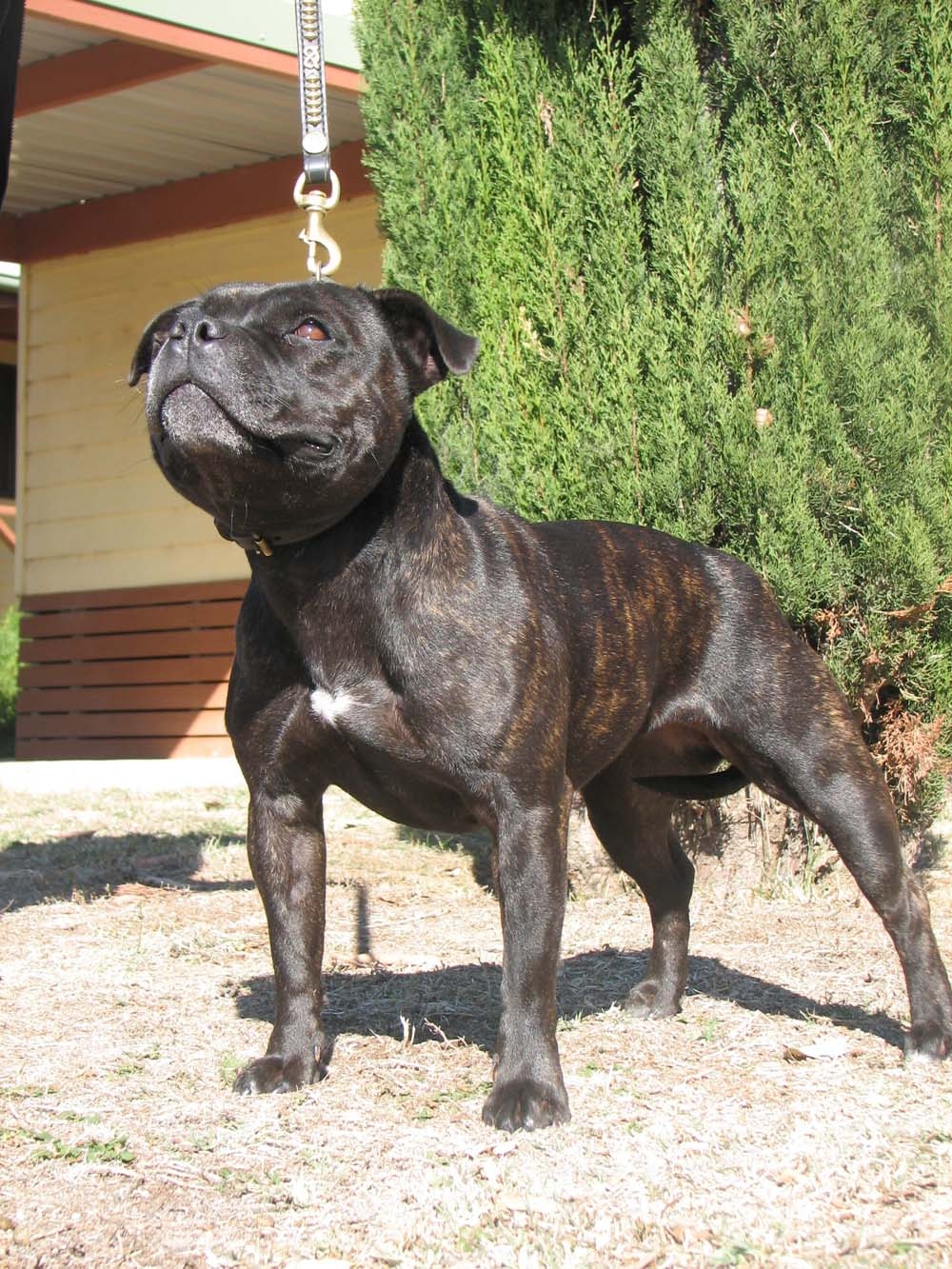 Ellie was a last minute decision to go to Sue & Paul as they had wanted Minnie on the advice of friend Tracie and she always took shocking photos as a baby, looking depressed and dejected, nothing like the personality she really was. She has a scar in the centre of her head so I had discounted her originally as a show prospect but as she grew it became more obvious that she was worth looking at. I can tell you I had some sleepless nights wondering if I had made the right decision sending Ellie instead of Misty.
Ellie has turned out to be all Sue hoped, for which I am extremely grateful and has done well in the showring for her when Sue has been able to get there. Still no matter what happens there she will be a good addition to Sue's breeding program and is much loved & spoilt in the Flentjar household—the most important thing. She is behind everything in Sue's yard today.
Ourgang Minnie Th Moocher "Misty"
Kerry Edwards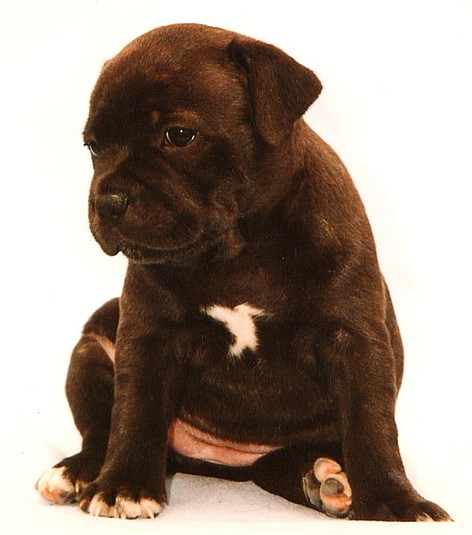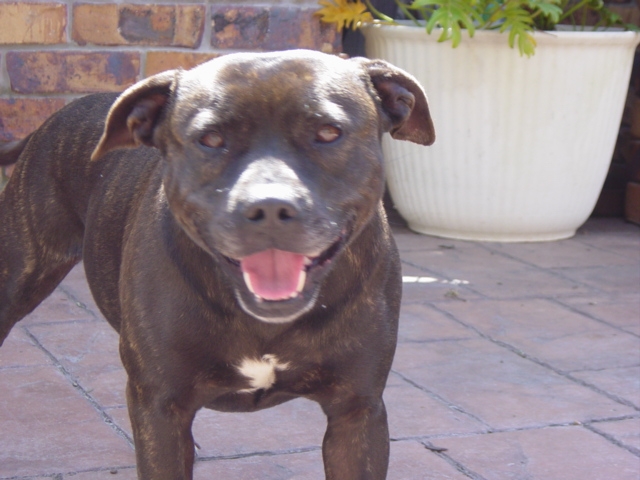 Misty's original owner Ron had been put onto me by Peter & Kerrie O'Brien as he had recently lost his old Keltarjess dog and wanted one from similar lines. The only thing was—he lived in Port Hedland WA! This was a long way to send a puppy and after some deliberation we agreed as I had sent puppies successfully before to Cairns. After 8 hours they finally got her, safe and sound & happy to see them.
Misty grew legs rapidly and then started to fill out. They moved across to Queensland but unfortunately Ron's new jobs meant that there was no time for Misty so she moved to a terrific new home with Kerry Edwards just down the road from them where she has settled in beautifully and given Kerry lots of happiness.
Ourgang The Penguin "Lilli"
Justine Millane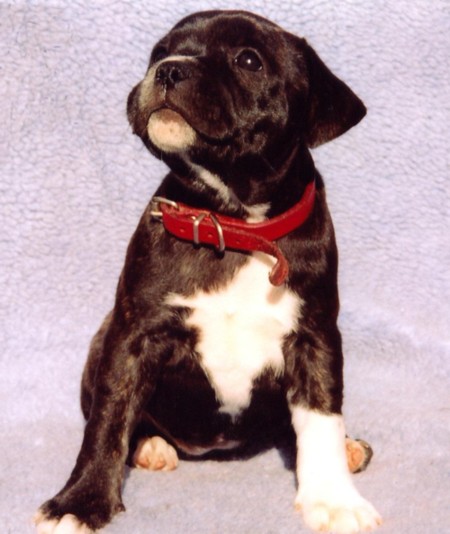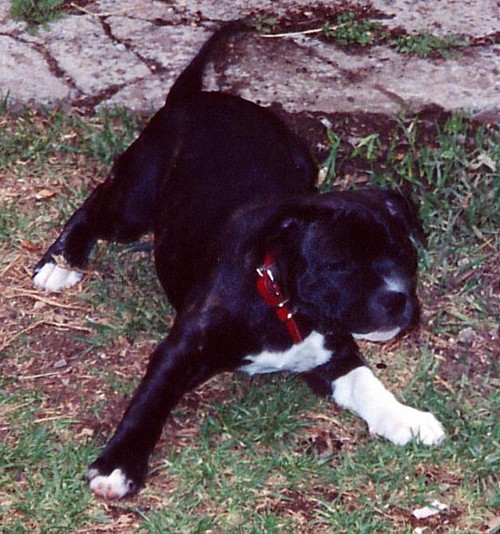 Justine was a friend of Tony & Dierdre's son and had two young daughters, one of whom was scared of dogs. I hear that Lilli has well and truly won them over to the joys of dogs even if she did steal their toys!
Penguin was named so because of her colouring however she was nothing like the character in the movies being a very sweet and gentle puppy with a hint of cheekiness. I have not seen her grown up as they live in a region of Sydney I just don't travel to and have now moved to Queensland. She was a very pretty puppy and I think might have turned out a bit better than I thought she was going to with any luck. I caught up with the Millane's again when they were looking for a new pup once Lilli had passed.
Litter 1 > 2 > 3 > 4 > 5 > 6 > 7 > 8 > 9 > 10 > 11 > 12 > 13 > 14 > 15 > 16 > 17 > 18 > 19 > 20 > 21