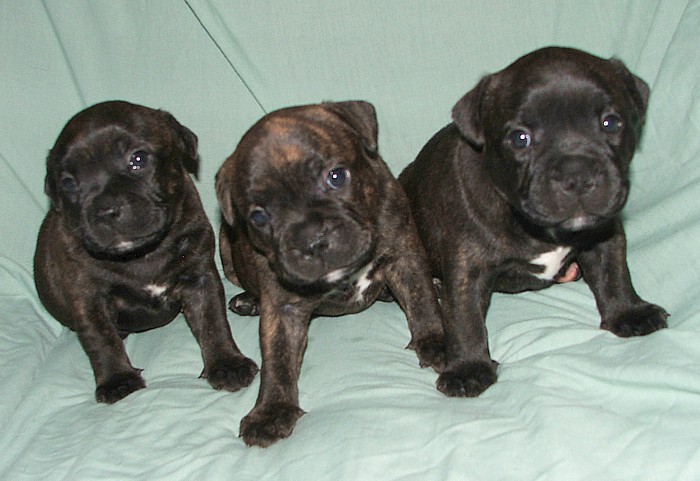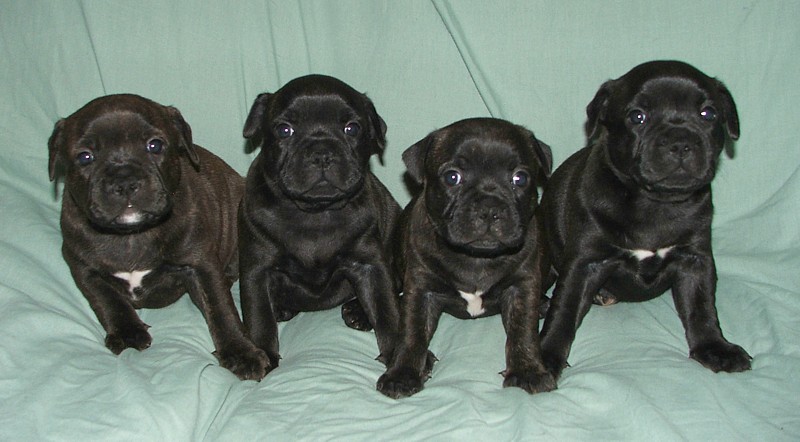 Ch Ourgang Tomorrow Blongs TMe x Ch Ourgang Queen Moussette
This mating was not the one I was expecting to do at this stage as I had wanted to use Scooby on Queen further down the track after I saw what she could produce however circumstances do not always turn out as you expect and the two other dogs I had in mind for her first mating were not available at the time. I am pleased that I have done this mating though as they DO compliment each other nicely in the fact that  Scooby is clean around the face where Queen is a bit jowly, he has the pigment and the level topline that she could improve on and Queen has the strength of head that Scooby could improve on so overall I think they have complimented each others strengths in the babies they have produced.
This litter will be special to me for no other reason than it is a quadruple up on my Maddy Moo as this is a cousin mating and Maddy is the Grandmother & Great-Great Grandmother on both sides I am really hoping that her personality and character traits will shine through. My friends will quake in horror at this as Mad was certainly mischievious but she had character galore and I still miss her greatly. Hopefully the babies I keep will help fill the hole left in my heart with Mad's departure.
This will keep me in good stead for the future as this litter will be family bred and that will allow me to outcross in the future should I wish to or go back to either the Boldhart side of the pedigree or the Leatherwood side of the pedigree without any qualms.
Queen had problems with Milk Fever (Eclampsia) on Day 2 which was very frightening for us and extremely hard work on her. Luckily for us she has recovered beautifully and after a slow reintroduction had all her babies back with her. She sailed through the rest of motherhood with no further reoccurance of milk fever for which we are most grateful. This certainly frightened the life out of me so this will be her first and last litter.
We have named them all after Queen songs so I thought it only fitting that their pet names be after the band & its history with one exception. So the pups are Freddie Mercury, Roger Taylor, Brian May, Johnny Deacon, and their record company was Elektra. Oprah is the ring in.
Most of this litter was shown at some stage in their life with two of the boys and two of the girls being in the ring to go on with. Unfortunately the third show boy Roger, went undershot as did May and Elektra so that was the end of their show careers. Freddie, Oprah, Merc & PT (Johnny) will carry on showing and hopefully will prove what a great mum Queen is, if their success so far is any indication that will be no problem with two of them already Champions.
Ourgang Let Me Entertain U "Boss" 
Matthew & Don Wagner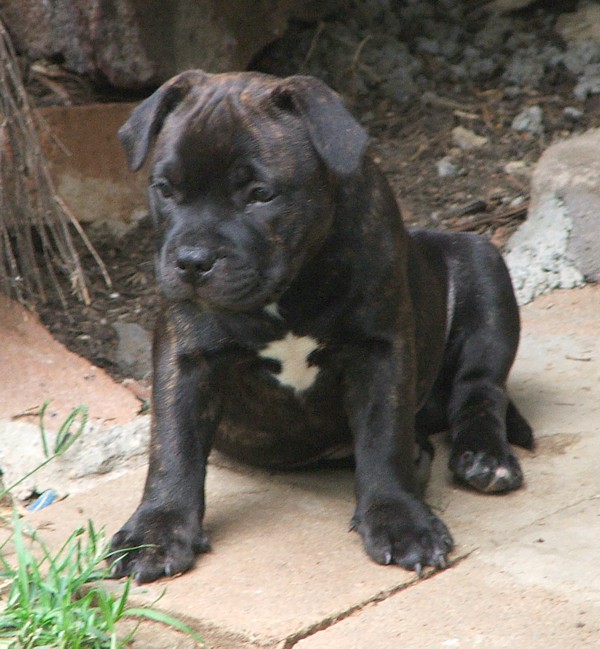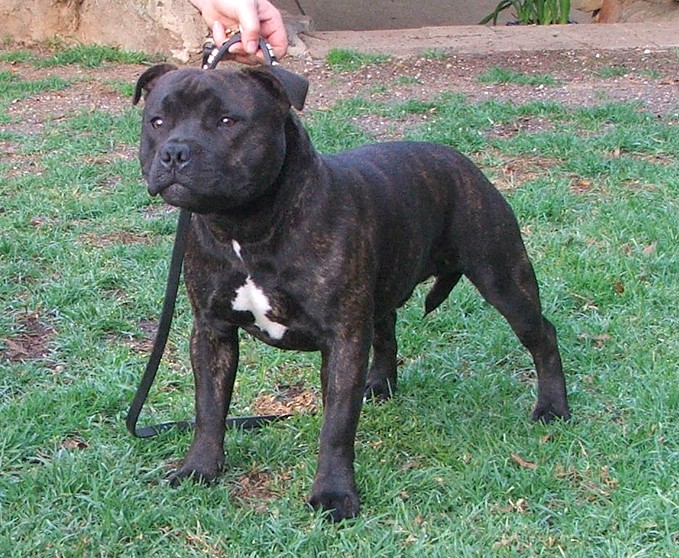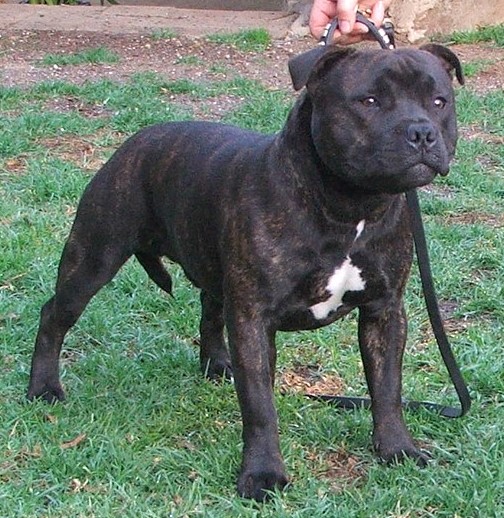 Roger was to be the star of the Hardroad kennels being the one that Craig wanted from the start and all was going very well except one small hitch, Roger went undershot. So Craig sent him back to me and we found him a lovely home locally with Matthew Wagner who renamed him Boss.
Boss lives on an acre in Bowen Mountain though he doesn't spend much time there as he is usually at work with Matthew sandblasting or repairing prestige cars in McGraths Hill with Matthew's dad Don.
Don and Matthew are really happy with how Boss has settled in and Boss is responding well acting as though he has been there all his life, loving the company and playing with the Labrador next door when he feels like dog company.
Ourgang Play The Game "PT" 
Matthew Delbecque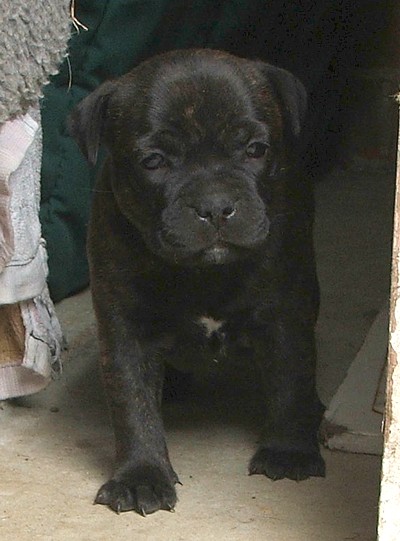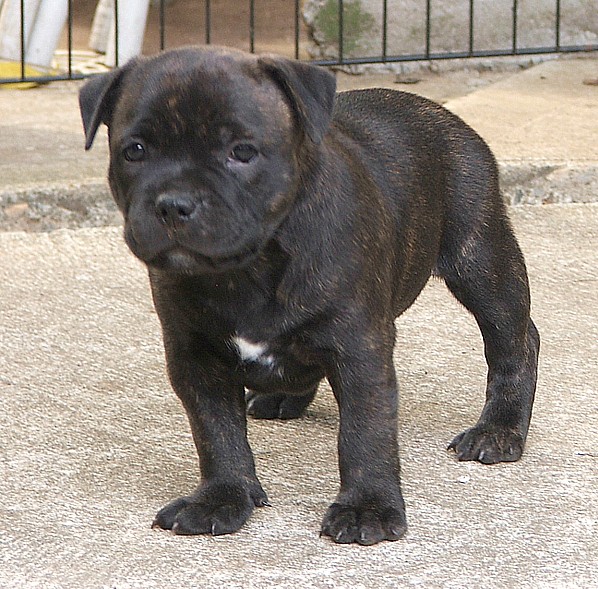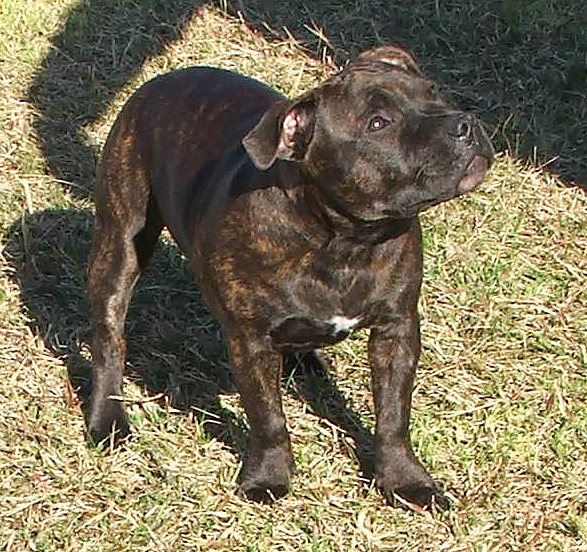 PT was the quiet man of the house though these days with his mum Queen around he is a happy man, racing around and enjoying himself like nobody's business.
He is a real smooch and a lover liking nothing more than to cuddle up to you and enjoy your company (or jump all over you). He lives with his sister Merc, who knows how to give him a hard time, and enjoys life to the full—playing in the garden, running up and down the hallways and of course—sleeping on the bed with Matt. Carrying on his father's tradition he has so far scored a camera & a mobile phone as "victims".
He was the most technically correct puppy in the litter so it will be interesting to see how he grows to see if he lives up to that standard. His shows in Baby have proved promising with a class win under breed specialist Annette Baxter. He has gone on to win a class in group and his first reserve at almost 11mths.
Ch Ourgang Don't Stop Me Now "Freddie"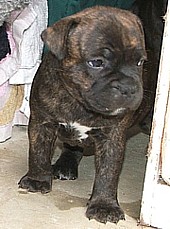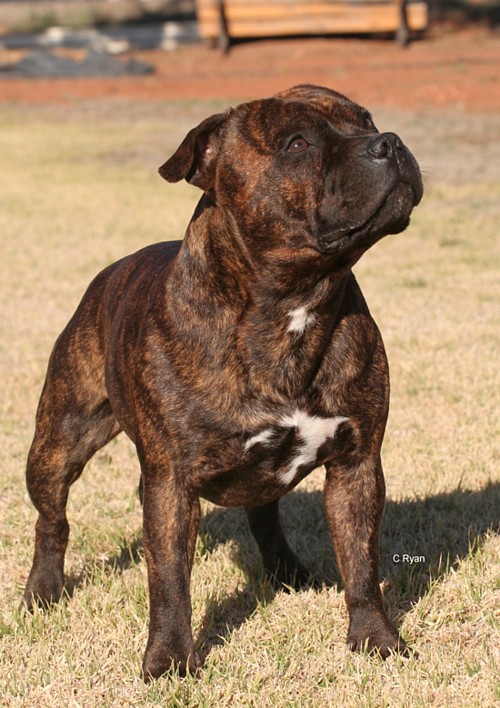 See Freddie's story elsewhere in the website. All I am going to say here is that I chose for him to stay due to his magnificent personality.
Ch Ourgang I Want It All "Oprah"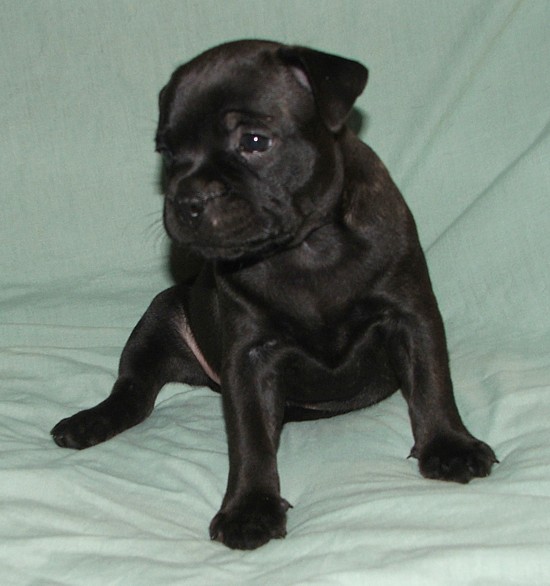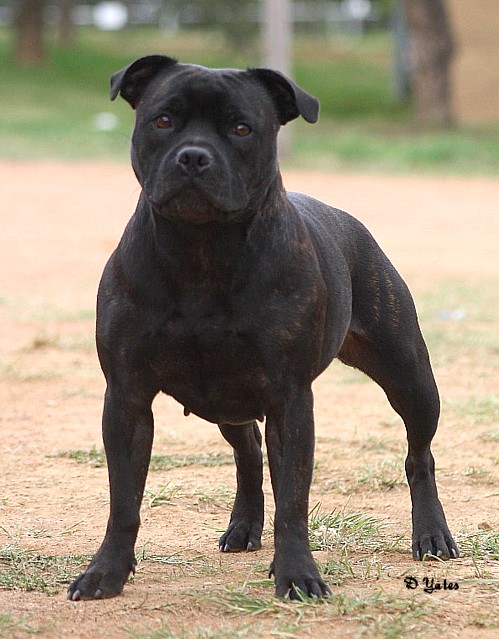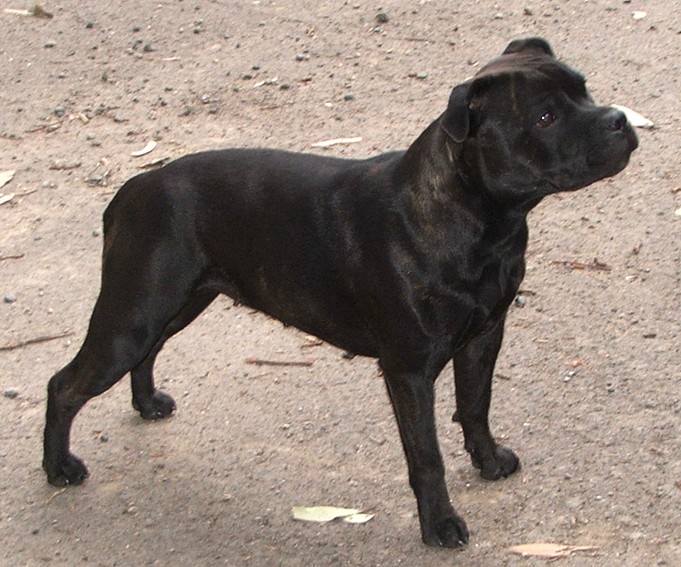 See Oprah's story elsewhere in the website. All I am going to say here is that I chose for her to stay to continue the bitch line and for her fantastic looks.
Ourgang Heavn For Everyone "Merc / Ming"
Matthew Delbecque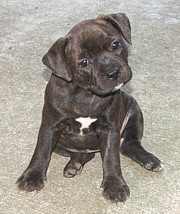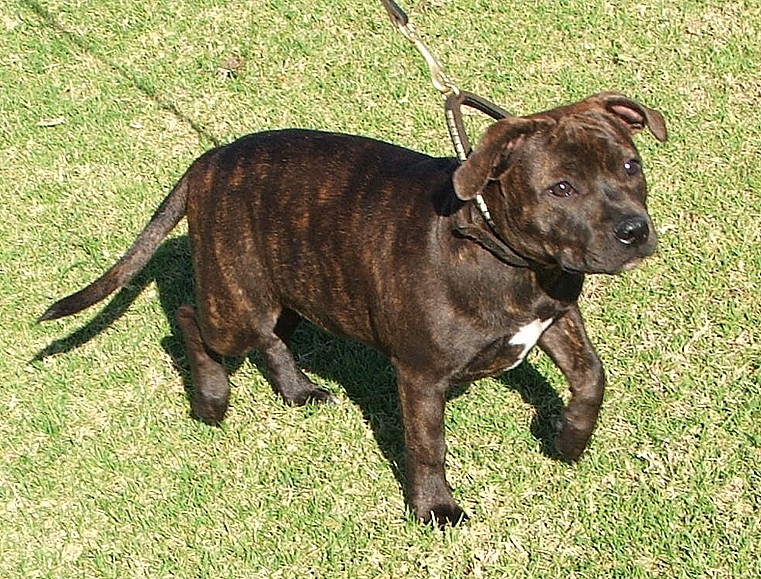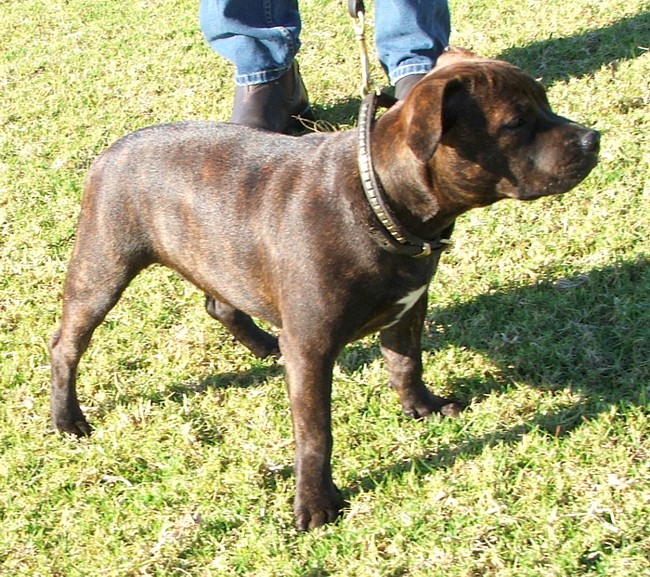 Merc is an interesting soul being a very intelligent girl who likes causing some heart pounding times. She is exuberant and full of life, sharp as a tack and loves going at everything full on though is a bit quieter now she has mum around to control her.
Matt is really enjoying having her even if she did give him a heart attack on her first day at home by falling in the pool. She is more independent than her brother and is a natural showoff in the ring.
Merc is always amazing Matt by her ability to learn and the speed which she picks up new things. More ready for action than her brother I am sure she will have a bright future.
Ourgang Seaside Rendezvu "Maysie"  
Shane & Natalie Dhu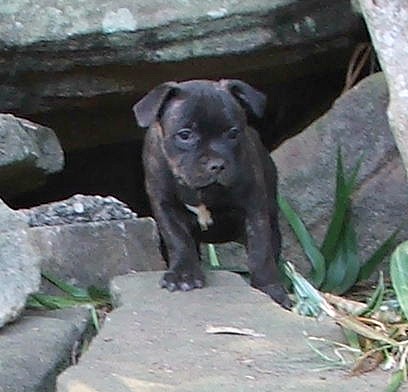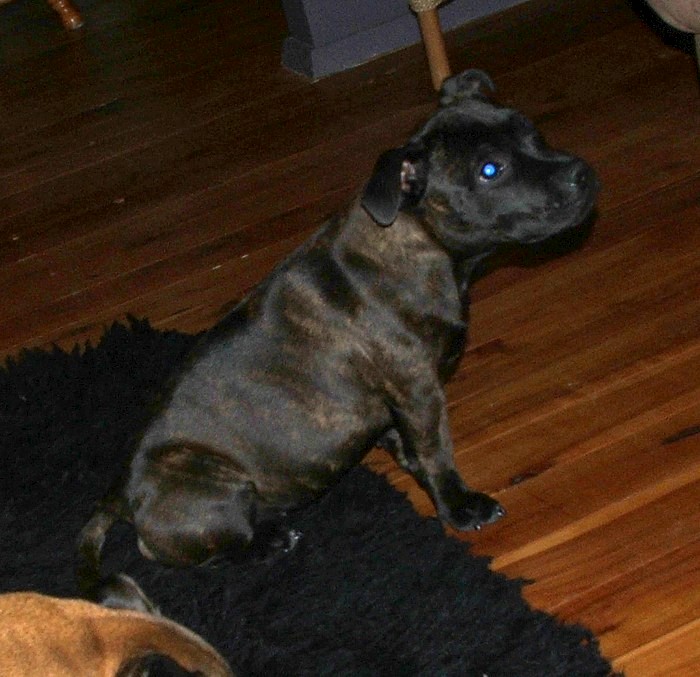 Maysie was the sweetheart of the litter, she is one of the special ones that you just want to hug forever and who makes you wonder why you are keeping the best one to show based on conformation rather than personality. It was hard letting her go even though we knew she was going to a wonderful home with her father as company.
May has settled in very well with her dad and relative Zoe and is part of the Dhu household well and truly. She has always been personality plus as the small ones usually are and adores her new family.
She loves her games especially roughing it up with Dad and playing with the boys. She loves her toys and is very good at her training only getting into mischief on the odd occasion. Though she wont be shown she is a star in our eyes.
Her name … well, where was she conceived!
Ourgang Now I'm Here "Elektra"
Tracey & Phil Scholz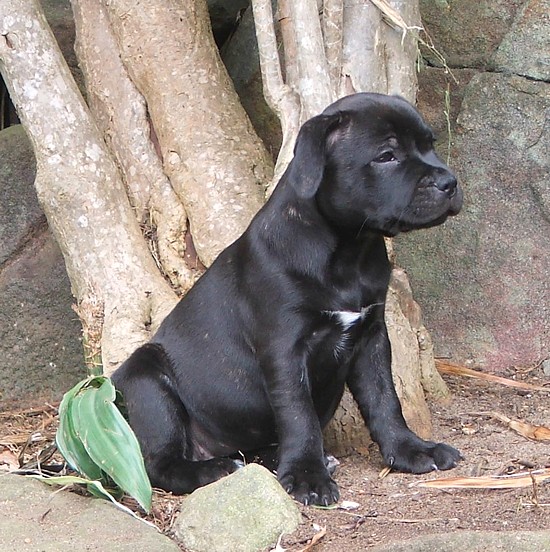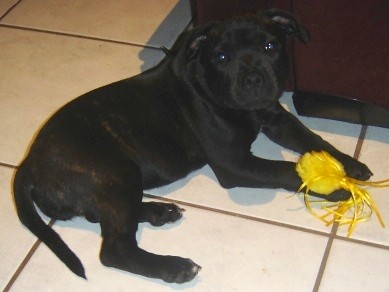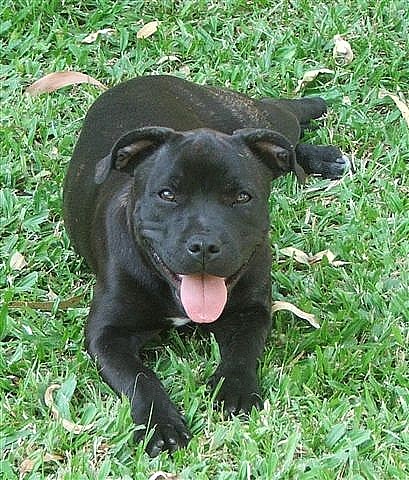 Elektra started off life in a bad way. She was the smallest and second last born and had a very hard time breathing. She would take the occasional gasp but would not breathe properly despite numerous swings to clear her lungs. When this did not help I ended up taking her to the Vets where she was on oxygen for 20 minutes and we finally got her to breath regularly instead of just gasping. She did not look back from that thanks to Wilberforce South Vets.
This knocked her around and for the first couple of weeks, she was behind the others in the growth stage and finally caught up around three weeks of age. She was unlucky in the fact that she has several homes fall through before we found one Tracey Scholz in Darwin. What a home it is—Elektra couldn't be happier & nor could I.
Elektra now lives with another Stafford—Neilson as well as a dozen or so British Shorthair cats. She loves playing with the cats & Nelson though the cats are not sure what to make of her. Now residing in Melbourne we hope for a bright and happy future for her & no more running away !!!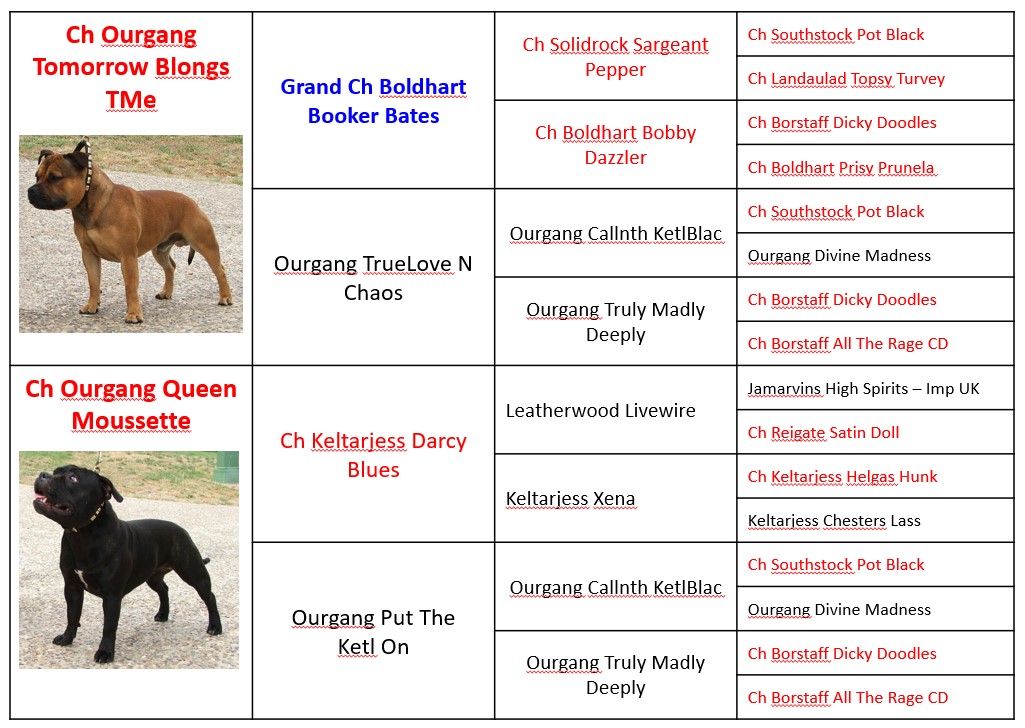 Litter 1 > 2 > 3 > 4 > 5 > 6 > 7 > 8 > 9 > 10 > 11 > 12 > 13 > 14 > 15 > 16 > 17 > 18 > 19 > 20 > 21