Grand Ch Boldhart Booker Bates x Ourgang TrueLove N Chaos
This mating occurred as I just had to use Booker again and he suited Murtle as he had long legs! Only kidding, more than that, Booker is very well angulated and proportioned and Murtle is little girl and a bit stuffy so to get what I wanted I used Booker on her. What I was after is Murtle stretched, while adding the balance and soundness of Booker. Murtle's strong head, strong pigmentation, good topline and angulation supplementing all Booker has to offer – I believe I got this in some of the pups. The bloodlines go together nicely through both sire and dam sides which was an added bonus.
Poor Murtle had a hard time with the pregnancy towards the end, she was only a small bitch and very compact and there just wasn't enough room for seven, larger than average, puppies in her small frame. Honestly, I thought I would be lucky if she had three or four, there was no way we were expecting seven. Anyway, she groaned and moaned and wheezed her way through the last couple of weeks, constantly getting stuck if she rolled over on her side or back. When it came to having them it just wasn't going to happen, I could feel the pups there but she just couldn't push them out. We took her to the Vets where he managed to pull out the first pup, dead, that was in the birth canal. I opted to have a Caesar for the rest as I don't think she would have managed. When we opened her up her uterus had been stretched paper thin and was literally black and blue from being kicked by the pups. We got the other six out quickly and went to work stitching her up. Reiner did not think she would go back well as the uterus was so flaccid, so put quite a lot of oxytocin into various points in the uterus. I was amazed when we desexed her four months later that it had gone back to virtually nothing.
A lesson learnt, I would not risk a littley again particularly as we found out the hard way that Murtle does not react well to anaesthetics and took nearly two days before she was able to stand let alone walk, feed the puppies or do anything for the pups so it was a trying first week. Luckily she accepted them and was able to produce milk for them. We were very careful when we desexed her and only gassed her down but even that took her over 24 hours before she was able to stand unassisted.
This litter was named with Girls after Murtle and Boys after Booker with a couple of exceptions. The girls names being "Where's My Halo" (as anything from Murtle wont deserve one) and "Misguided Angel" (as she will have Murtle to teach her about life). The boys being "Bomber Bates" (as Booker likes Bombing everyone in the pool) and "Red the Book" (for one of the red boys) and "Tmorrow Blongs ToMe" (as Booker will go on forever in his kids and grandkids, etc). The only ring in was "Harry Potter" as a young boy, Sean, wanted him and was a mad Harry Potter fan so I could see no harm in naming him this.
Ch Ourgang Tmorrow Blongs TMe   "Scooby"
Shane & Natalie Dhu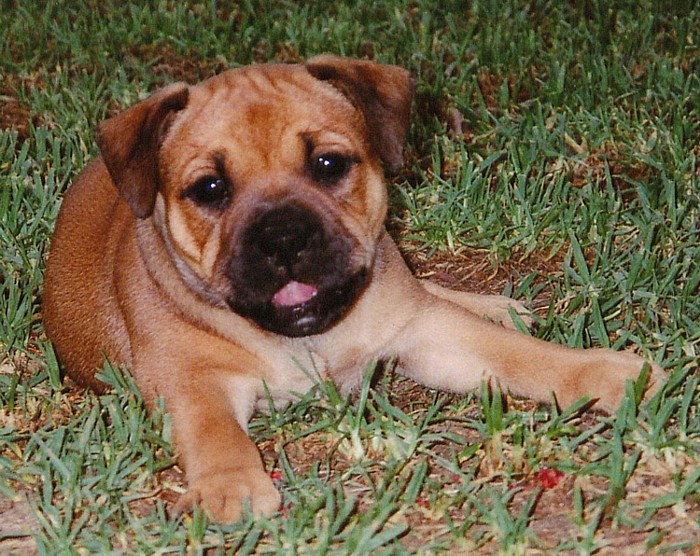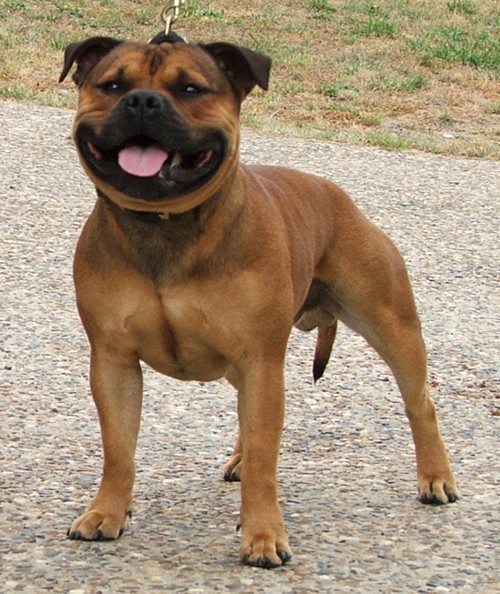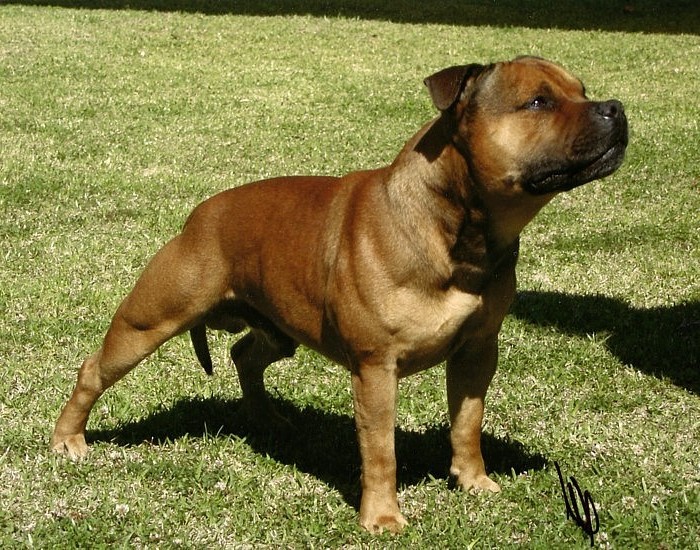 Scooby was sold at half price in partnership with Shane & Natalie Dhu, he was very similar to Jacko from the first litter from Booker and I was really hoping that he would turn out very similar. He did – we called him Mini Jacko with Narelle's mum as he was not as big a dog as Jacko was. I did show him and got him to his Championship title, he was a bit naughty for us – once jumping all over Glenn's new car, scratching up the new deco on every panel, Once jumping over the front seat from the back while I was driving – nearly causing a major accident as he landed on my arm and once deciding to jump up on the bench and pull all the rat bait down for everyone to eat. He was a trying dog for me but a great dog at home. I used him once to produce Litter 11 which gave me Fred & Oprah, he is behind everything I have today.
Ourgang Harry Potter "Harry"
Maria Hayes (Roharn)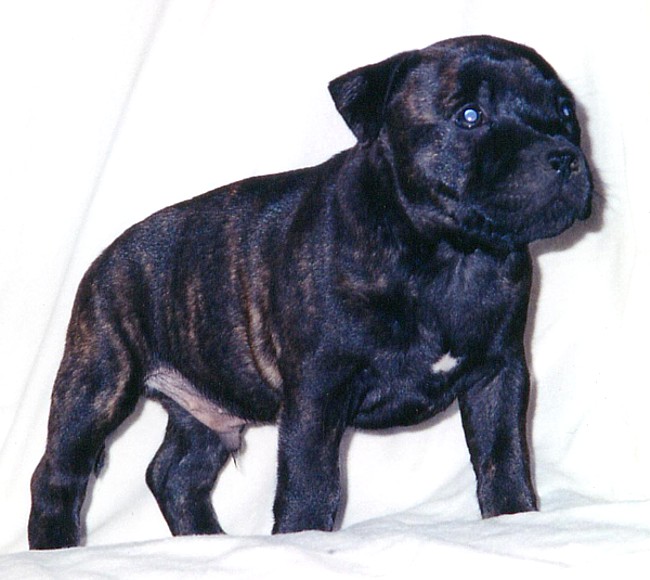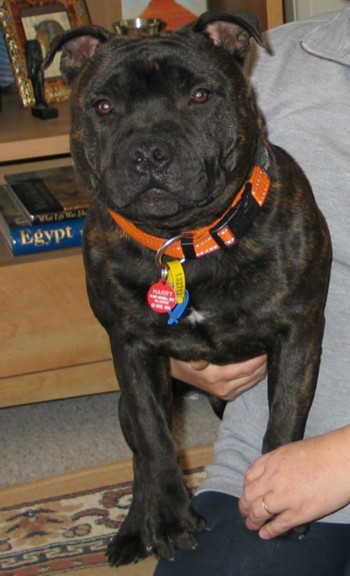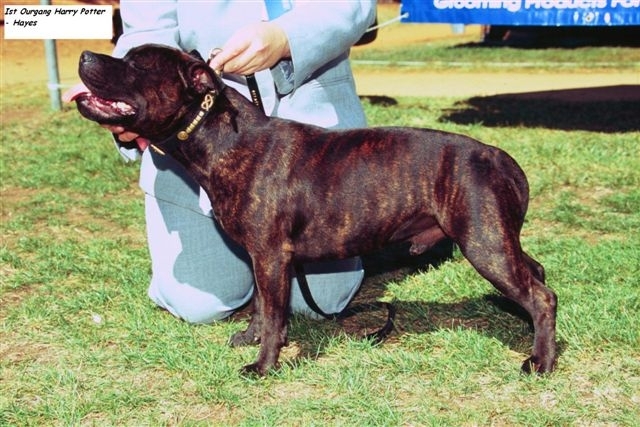 Harry was bought as a pet but Maria decided to give showing a go after I had entered him in the Canberra Royal and he won the Baby Puppy class. He showed for a while but absolutely hated it and was becoming more than a handful for Sean, his young handler. It was decided he would be desexed as originally planned and that they would start the showing again later with Rosie.  He did however show at the ACT & District SBTC Show and won Best Neuter in Show under Lesley McFadyen (Araidh) & Opp Neuter in Show under Justine Blyth (Bustabones).
Harry is very much the Boldhart type dog, a fantastic mover, great body and good pigmentation. He loves his miniature poodle friend Angel, even if he does give her a hard time on occasion. He also lives with a multitude of cats and was very spoilt when growing up, always picking the best spots to lie in and getting into trouble with Maria's washing. I wait with interest to see how he copes with a new Stafford friend.
Ourgang Red The Book "Bailey"
Brian & Rebecca Leggatt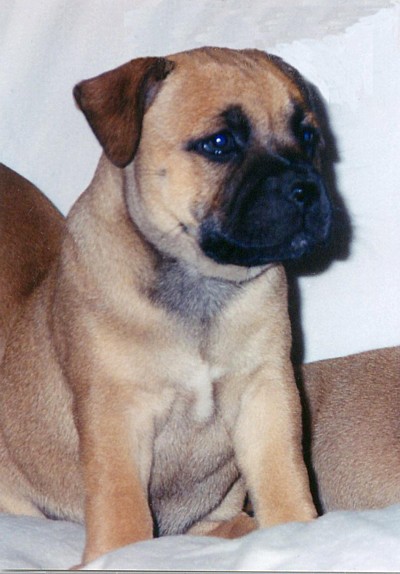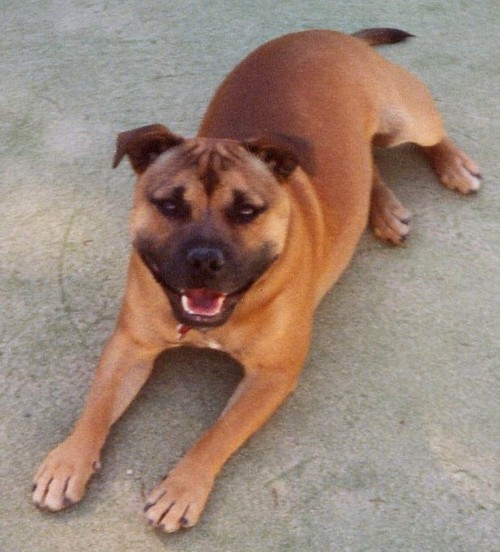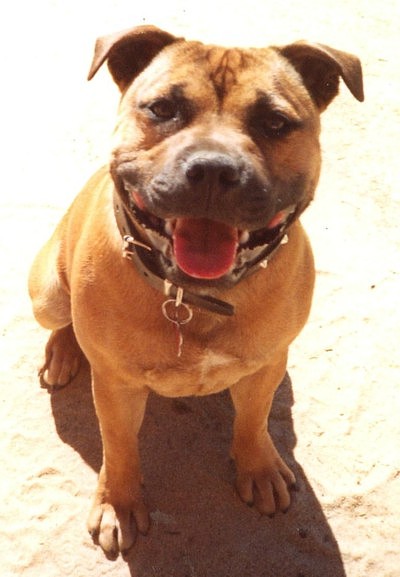 Bailey was the quiet one in the litter. He was very much like his great uncle Lander as a pup and I thought he might turn out to be a bit of a dark horse grown up. I was really happy with the young couple who took him as I could tell that they would spoil him well and I am pleased that this shows in the photos they have sent me.
Ourgang Bomber Bates "Riley"
Jackie Vittles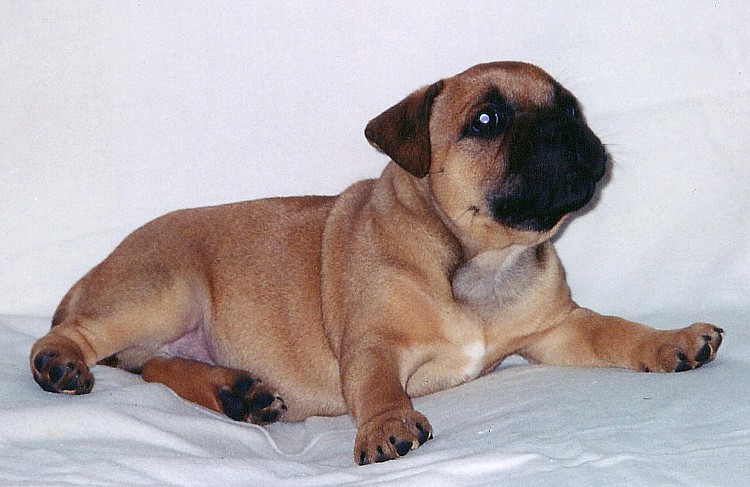 Jackie is one of the Vet nurses at the practice I work at on weekends and had been asking me for some time for a pup so I was pleased to be able to sell Riley to her. He was the second pick boy and I was very much tossing up between him & Scooby towards the end. He as grown up well and everybody in the Goulburn area knows him as he is very friendly and outgoing, a great ambassador for the breed. One day Jackie will give me some photos I can put some adult photos on the website I hope!
Ch Ourgang Misguided Angel "Angel"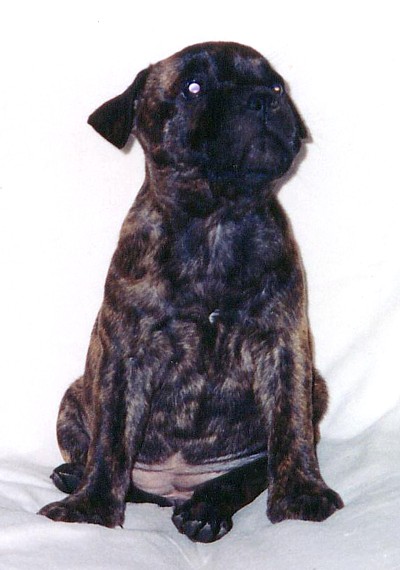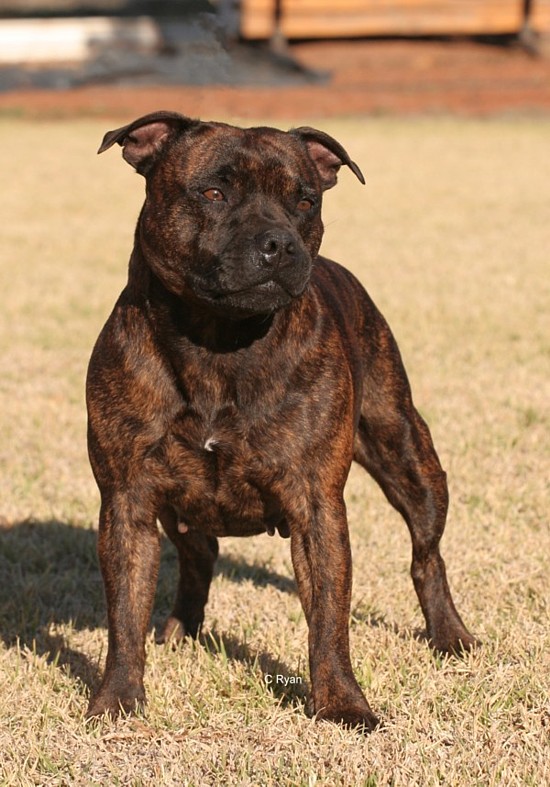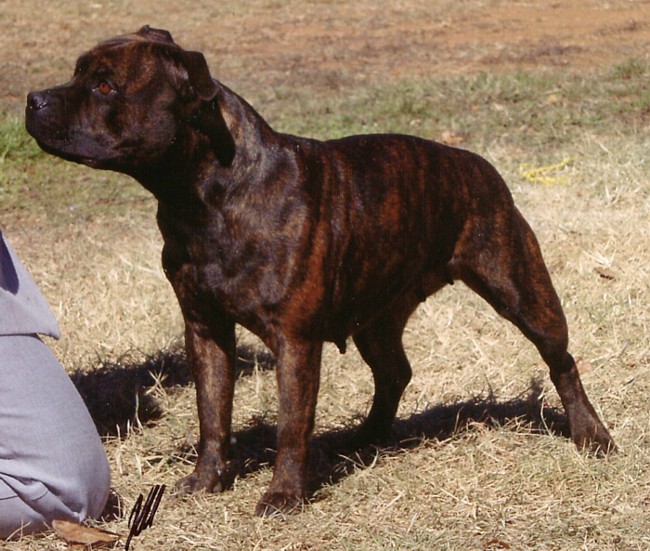 See Angel's page elsewhere in the website. Angel baby was my choice in the litter from the start. I rang David & Vicki to let them know that there were two girls and he suggested that a brindle one wouldn't go astray and I told him then that the brindle one would be staying and that he could have the red girl if he wanted her, with her 'up' temperament she would have suited David's love for obedience but she got to stay instead and we loved her, the pest that she was.
Ourgang Where's My Halo "Bella"
David & Vicki Atherfold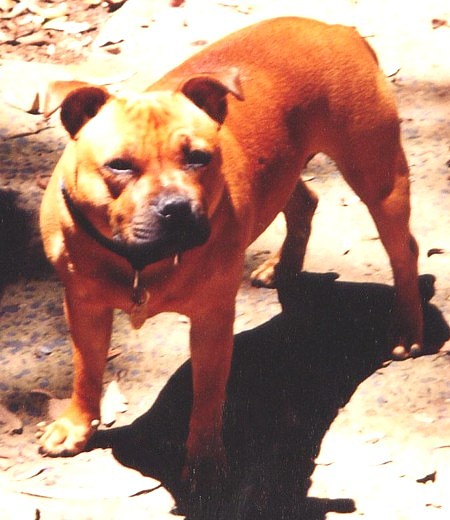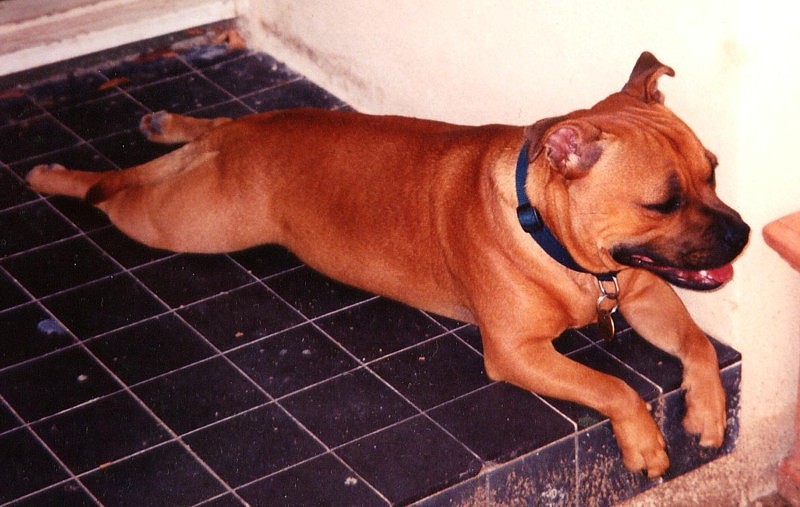 Bella was bought when Scally  had gone but was a very different temperament than Scally, a lot quieter and shy. I thought the obedience training that David wanted to do would bring out her confidence which it did to a certain extent but not to the degree that David wanted.
She was a very happy dog, pleased to see everyone and not naughty like Scally was. She was a beautiful red and turned out a nice size (14.75 inch) which is bigger than I thought as I thought she would be a littly like her mother. Unfortunately she went undershot so she was desexed and lived a life of luxury with the Atherfolds.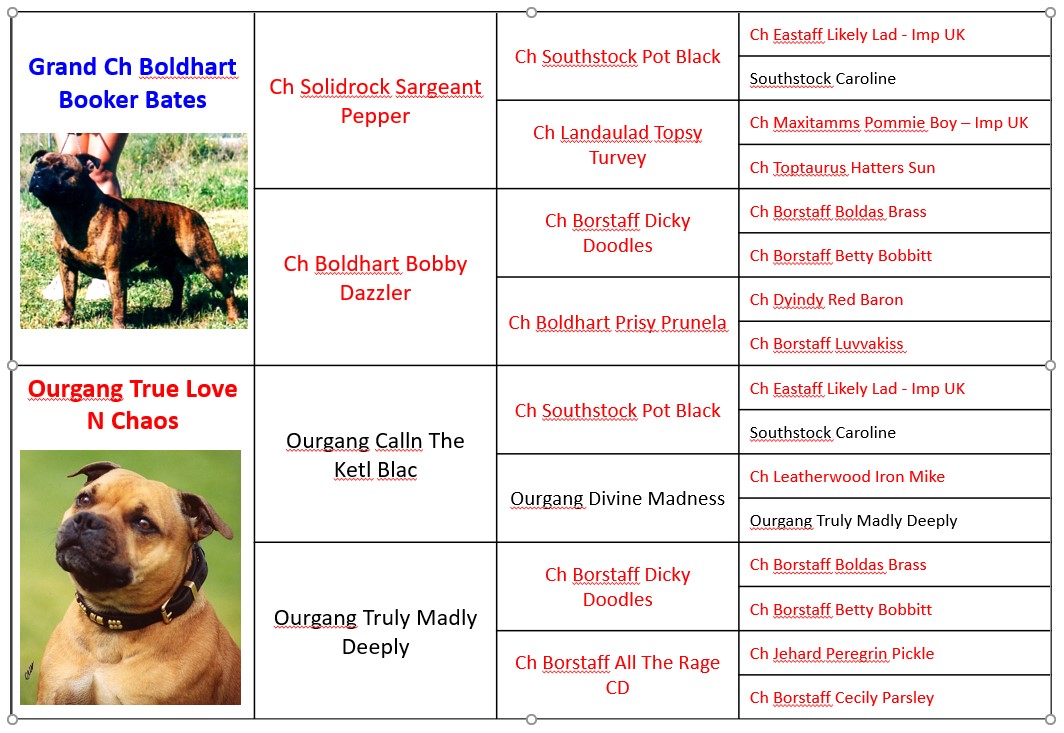 Litter 1 > 2 > 3 > 4 > 5 > 6 > 7 > 8 > 9 > 10 > 11 > 12 > 13 > 14 > 15 > 16 > 17 > 18 > 19 > 20 > 21