Ourgang CallnTh KetlBlac x Ourgang Truly Madly Deeply
This mating was done for a few reasons. One – Ketl had what Maddy lacked – a strong front and level topline. I was very pleased with how he had turned out especially after the accident that he had been in. Two – I knew at this time I would be placing him, what I didn't know was where or if he would be desexed or not. Three – I wanted to see what good things and bad things were in my lines by doubling up on them it would tell me.
I really, really, really wanted a girl as this was the end of my bitch lines if Mad didn't have one as this was always going to be her last litter. I decided to take Maddy in for a Caesar on the day before she was due as she had had such a hard time of it last time that I didn't want to put her through that again. It was a very good thing that I did because when they went to do the Caesar her uterus ruptured and she had to be desexed as it was the only way to save her and the babies. We were extremely lucky not to lose Maddy as she lost an awful lot of blood as the uterus is full of blood to feed the puppies and to have that taken out is a big loss to the body. To me – anyone who desexes their bitch voluntarily at the time of a Caesar is taking a huge and unnecessary risk!
Maddy's gums were as white as a sheet of paper for about 5 days after the surgery & she showed absolutely no interest in the pups – which was not her, as she is usually 'supermum'. I think if I had not taken her in to be put on a drip plus the amount of glucose and acidophilus that I shoved down her throat that I would have lost her for sure.
The pups were also in dire straits. At three days of age they weighed half the weight they were born at and looked very much like fading away, were limp & cold. I was having to sup feed them constantly as Maddy's milk production just didn't seem to be there as she was having a hard enough time herself. Abbey, the red smut girl, actually died on me and had to be revived. That was a nightmare of a week for me with worrying about Maddy, feeding 5 pups every two hours, going to work between that and topping them up with glucose and acidophilus, at some stages you just feel it is all hopeless but you knew you had to keep going. I was very lucky not to lose any of them and managed to get them all up to scratch by the time they were three weeks old – yes, it did take two and a half weeks to recover from three days of trouble. I can't say it is something I ever want to go through again and though I had no choice in the matter I would NEVER, EVER recommend a bitch be desexed at the time of a Caesar – it is too much on them!!!
Ourgang Pmission to Shine "Choppa"
Neoni Banks (Stonecold)
Steve had contacted me over the internet as he had liked the look of my dogs and really wanted a black brindle boy. They came down from Canberra to have a look at Choppa when he was very young and they were happy with him so after many photos to them they took him home. He is now the spoilt baby of Neoni's life.
Neoni had shown him from the start with moderate success, and he eventually filled out a lot and won a lot more however Choppa was not really a fan of the show ring though and always made it hard for Neoni. Choppa's real forte (like a lot of the Ourgang dogs) was Lure Days. At the first Lure Day for the Canberra Club he blitzed them all and had a great time.
He lived out his days at home on Neoni's property living it up racing around the paddocks.
Ourgang Calln Me Mad "Grosby"
Carl Gallagher
Grosby was always special for Carl and Tina as he was their wedding present to each other after losing their first puppy to cancer at a horrifyingly young 4 mths of age. Grosby has stolen Carl & Tina's heart with his antics and beautiful personality. Every time I saw Gros I could not get over how similar he was to his sister Murtle, both in looks and especially in mannerisms. To see him you would think that they had grown up together as their little quirks were almost identical (Gros liked to be a bit more vocal than Murt though but not as nasty).
Gros had a special friend living with him – Ellie. Ellie came to me from Annie & Wayne Pulford (Boldhart) and is otherwise known as Boldhart FancyThisnFancyThat. Basty's daughter. She settled in extremely well with Grosby & they sleep together, eat together and play together and Carl & Tina are very happy that their little family is now complete. Gros' favourite toy was his "giggle ball" which is one of those balls that you put food in and they roll it around to get it out. The reason it is called a giggle ball is the noise it makes. Ellie has managed to destroy all his other toys but I don't think she is allowed near this one.
Ourgang TrueLove N Chaos "Murtle"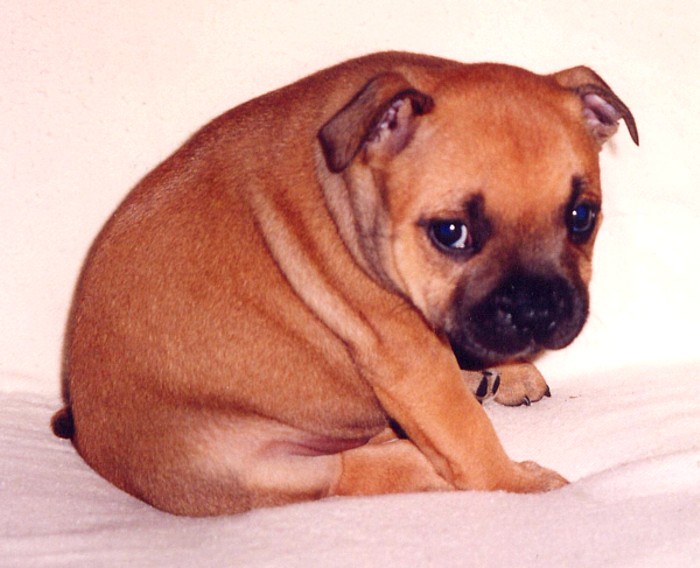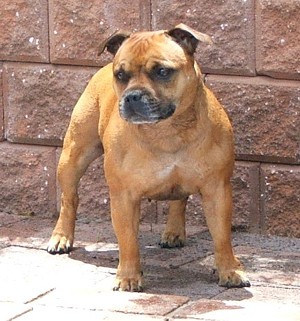 See Murtle's story further in the website. Murtle was named after the movie True Love N Chaos and because the name suits her to the ground.
Ourgang Put the Ketl On "Polly"
Tony & Deirdre White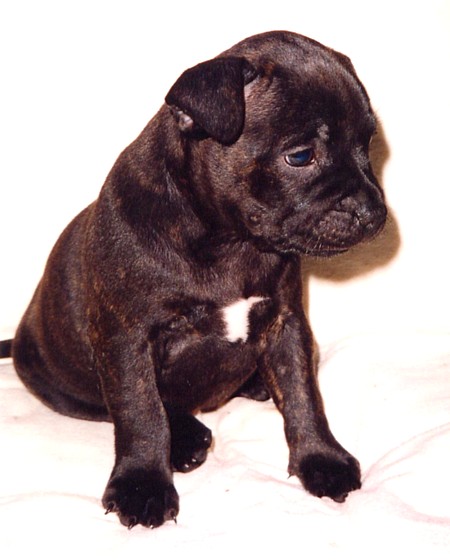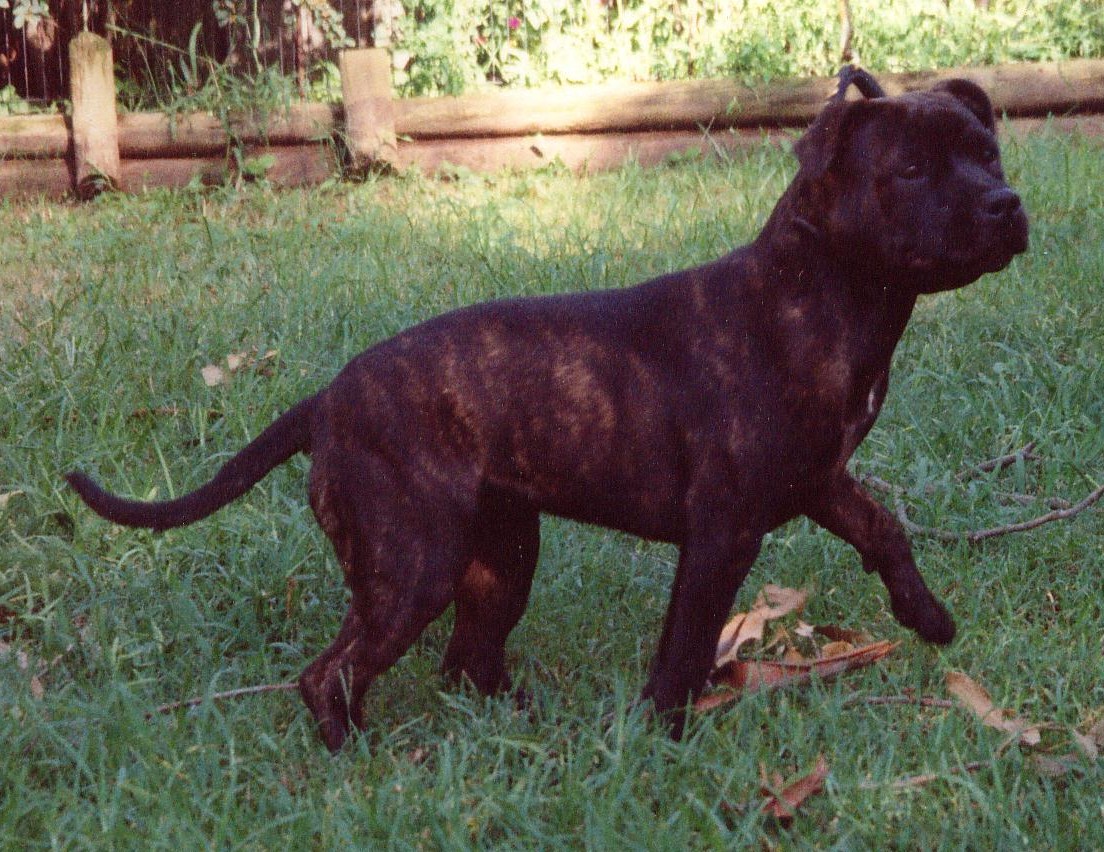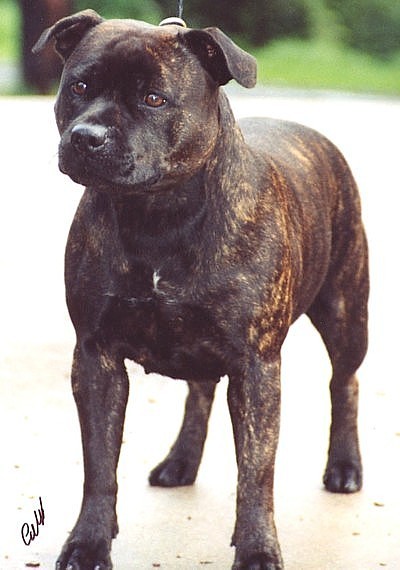 Polly, what else could she be called with the name Put the Kettle On, was named after Ketl as she was the most like him in the litter. The person who was originally meant to get her dropped out at the last minute so I decided to run Polly on for a while as she was looking promising. We kept her until she was around 6 months old when she went to the White family which is how I met Belinda. A truly lovely family who loved and spoilt her to death with her name there being "Princess Polly" which I think explains it all.
The reason she had to go was that she wasn't getting on with her Mum, Maddy. Mad would squash her and squash her but Polly was determined to be queen bee and wouldn't let up so to keep the peace and because we had already decided to keep Murtle no matter what plus Polly hated showing, so Polly got to go to the terrific home she was in.
She successfully came back for a litter with us (Litter 9) being mated to "Darcy" Ch Keltarjess Darcy Blue, producing seven wonderful puppies for us.
Ourgang 'Eres Mad in Yr Eye "Abbey"
Mark Jenkins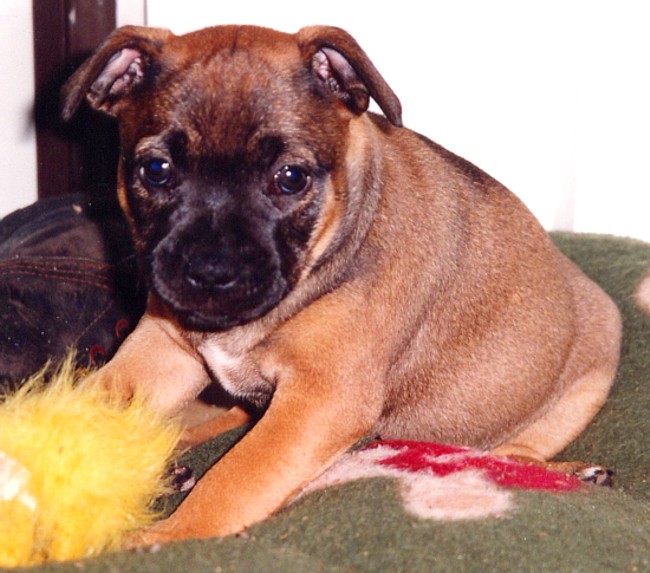 Abbey was the in between pup of the litter – being a red smut in a litter of two blacks and two reds was quite a coincidence. She was my final pick of the girls, still a nice bitch but I thought the other two had better qualities and I knew her colour would go against her if she was shown.
She ended up going to a nice couple in Holsworthy to live with their cat and had a lot of fun playing with the neighbourhood kids and Mark's fathers Stafford. She ended up being a beautiful clear red though I don't have any adult photos of her to see how she turned out.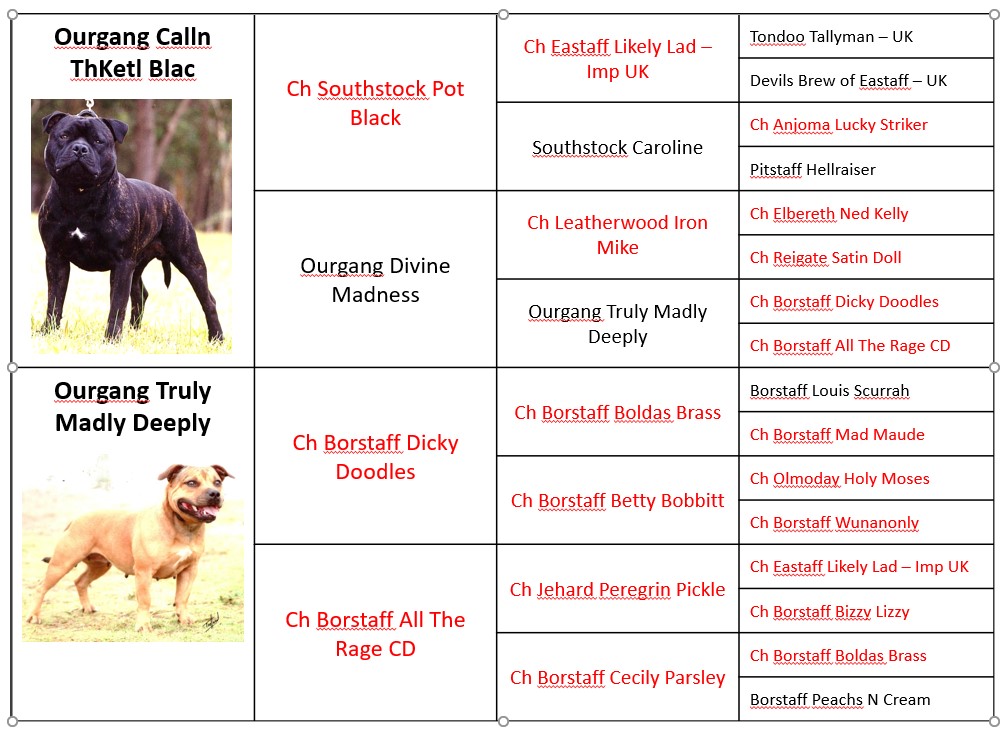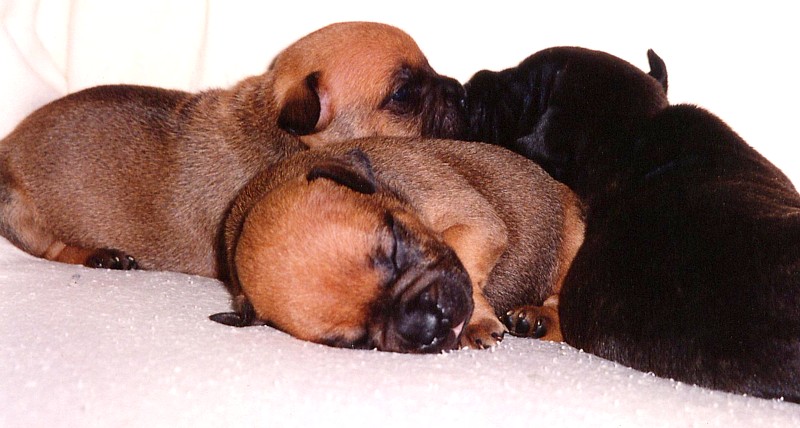 Litter 1 > 2 > 3 > 4 > 5 > 6 > 7 > 8 > 9 > 10 > 11 > 12 > 13 > 14 > 15 > 16 > 17 > 18 > 19 > 20 > 21