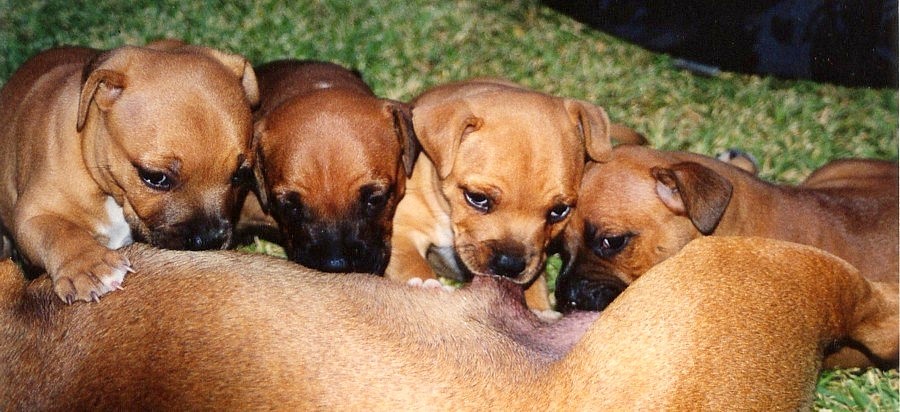 Supasound Milk N Hunky x Ourgang Truly Madly Deeply
This litter came about as I wanted to use an outcross dog for Mad again and wanted to see what she would produce to a different line from the first one I had used. I chose Milko because I liked the lines and was very impressed with him after visiting Pam's house for the weekend. He is a dog that you appreciate after you had go over him as he was deceptive to just look at with his colouring. The only thing that I saw as detrimental was his front which wasn't Maddy's best point either though in a different way. This litter was named after Maddy & Milko's names.
The funniest thing about this litter was leaving Mad at Pam's for the mating. Unfortunately she was ready in the middle of a work week so I had a mad dash down to Junee after work then stayed the night & headed back very early to work the next day. I had never left Mad with anyone before, in fact, apart from me going to work she had been with me every day since birth before this. Mad didn't cope too well, especially that locking up in a trolley stuff—horrifying… The first night she escaped from the trolley by busting the top lock and pushing out the top. She then spent the whole night walking along the laundry benchtops howling to the world how unhappy she was. The second night Pam put 100kg of dog food on top of the trolley which prevented the top escape however she still managed to escape having spent half the night trying to undo the latches on the doors of the trolley—she finally succeeded! This takes a lot of dexterity however she managed, she was that determined. Luckily I came to pick her up the next night so I had to thank Pam profusely for looking after her—the trials of owning a stud dog and having someone else's bitch there.
I was meant to keep a girl from this litter but was disappointed when there were only boys born. Mad had had the first three boys at home but the next one was back first across the entrance and was not going to move so off to the Vets we went. She had a Caesar for this pup (which we could not get going – another boy) and the last one, who though little came out fighting.
Ourgang Mads Milkybar Kid "Boof"
Scott & Rachel Bowley
At first glance the "Kid" as he was called by me, later changed to Boof by his new owners, had nothing wrong with him. There was just a slight nick in the forehead between the eyes which we weren't sure was caused at the time of the Caesar or what. He had trouble feeding though and had to be topped up with bottle feeding.
At around a week old we discovered why – he had a very partial harelip – his nose wasn't quite formed properly and there was a line down to his lip where the late development of the lips joining must have occurred. I don't know why as there was no sign of any cleft palate, but this stopped him from drinking properly. Still once he got onto solids there was no holding him back and he was a lovely dark red & of good type. It was very hard to see him go due to all the work I had put into him in getting him to 8 weeks.
I haven't seen him since he was seven months old when he was dropped off to me to be desexed. He was quite nice then, a beautiful dark red with nice bone, great pigmentation, a good front, nice and short in coupling. Overall a nice package.
Ourgang Madness Reigns "Major"
Michael & Adele Walker
Major was the one from the start who stood out in the litter. A very pretty boy with his red fawn coat, white socks and front and beautiful dark eyeliner around his eyes. I think the best way to describe him is the "personality profile" that Adele once sent to me:
The best way to describe Major is to tell you the nick names we give him:
Sadsack – this is because he sometimes while watching me, hangs his head and looks up at me with such a sad look until I say something to him and then he is as happy as Larry. I've come to the conclusion that this is his way of getting my attention.
Doodle Brain – because he didn't pick up on the rules as quick as Babe did (their other Stafford), he dug a lot, chewed a lot, and for instance, even though he KNOWS not to go in the bin the kitchen he always has a go, even if he knows I am watching. In general he has stayed a bay longer and loves to play the clown.
Boy George / Gay Boy – Michael's nickname for him (Adele's husband) as he is too pretty to be a boy and he's very sensitive almost seems shy sometimes. He has a very quiet and gentle nature.
My Man – because that is just who he is and a gentleman at that!
When Michael plays with Babe (their other Stafford) – wrestling, etc Babe never backs off and Major when he thinks Michael is getting too rough will back off. This is the only time he is vocal as he stands back and barks at Michael.
When waiting at the back door either to come in or go out, where Babe will let the whole world know what she wants, Major will just sit there until someone notices him, he is a man of few words.
He loves physical contact and is always close by, he also loves being spoken too. One day when an Avon lady came to the front door I made him stay while I went out and stood on the other side of the door with him inside. I briefly spoke to the Avon lady and came inside, Major, after the lady left started running around the house whinging and crying and going to the window at the front of the house looking for where she went. I'm sure it was because he didn't get to say hello! Otherwise he thought it was Stella Deacon (Steaminstaff) as this is the way he reacts when she leaves after being here.
Major is like a shadow sometimes to the point when I go to walk I trip over him not realising he is right under my feet. When walking up the back yard or around the house he walks so close to me that he is always bumping into me. Sometimes nearly knocking me over.
Major is a beautiful natured dog, I wouldn't swap him for the world and he is a joy to own.
Ourgang Mads Milkshake "Bailey"
Matthew & Michelle Curran
Bailey's owner Matthew was horrified by his registered name when they got him. He thought it was something of a joke and didn't realise that this was his registered name for life. I called him this as he was a fawn coloured pup similar to a caramel milkshake. He was the biggest pup in the litter and Michelle & Matthew were happy with the photos that I had sent of him and were happy to get him when they met me on the highway to Melbourne. They live in Griffith so had a couple of hours trip to meet me but it was still better than driving all the way to Sydney.
I must admit I have been slack and have not followed up with this litter as much as I should have so I don't have any older photos of him later than 10 months.
Ourgang Twas the Milkman "Tahi" (2000 – 2001 ?)
Sarah Bolton (Grozbolt)
Tahi, as Sarah called him, was the fatty boomsticks of the litter, all he would do is eat and eat and eat, he was the last to get up and walk and even on the day he left couldn't stop eating – he couldn't believe his luck ! The whole milkbar to himself !!! He was a beautiful dark red, the most like Maddy in the litter in shape and I would have loved to see how he turned out.
Unfortunately he went missing from Sarah's home in Castlemaine, Victoria. We are unsure if he was taken by a snake or stolen. Hopefully, one day we will find him, as he has been microchipped and is on the Australian Animal registry so we at least have some hope of him coming back though as the years go by this is getting more and more doubtful. It is a great shame as Sarah was extremely upset over the loss of her baby boy, we all have one who is special to us & Tahi was Sarah's.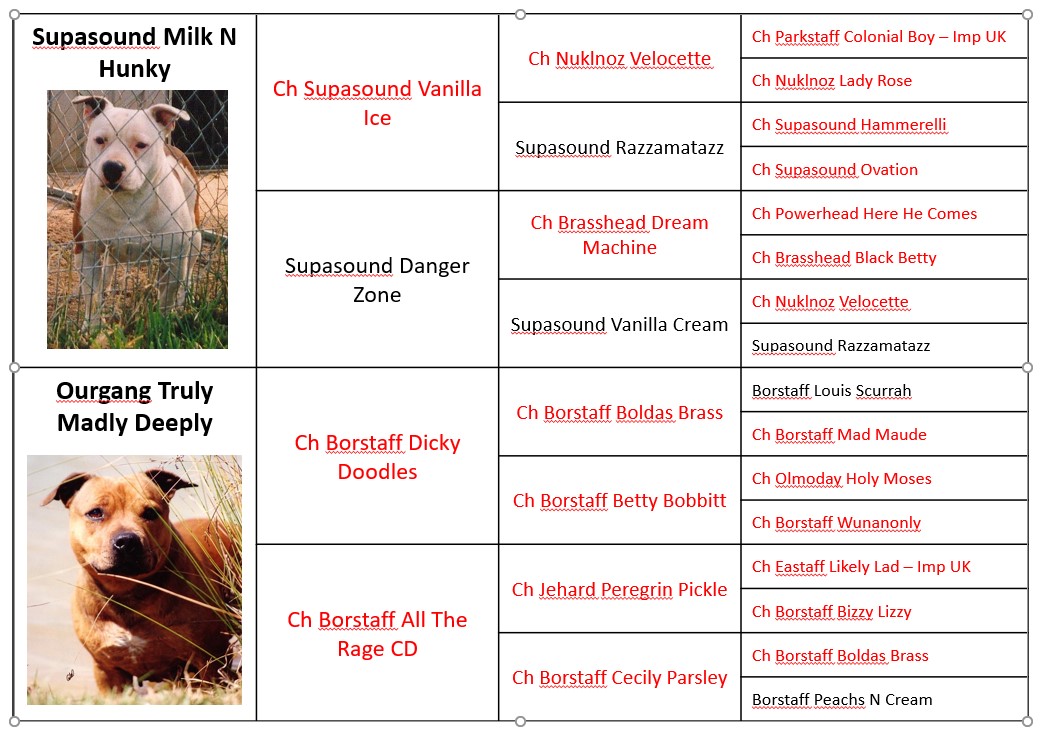 Litter 1 > 2 > 3 > 4 > 5 > 6 > 7 > 8 > 9 > 10 > 11 > 12 > 13 > 14 > 15 > 16 > 17 > 18 > 19 > 20 > 21